Mini Reuben toasts will knock your St. Paddy's day out of the park. These mega yum appetizers will kick the party off with a bang.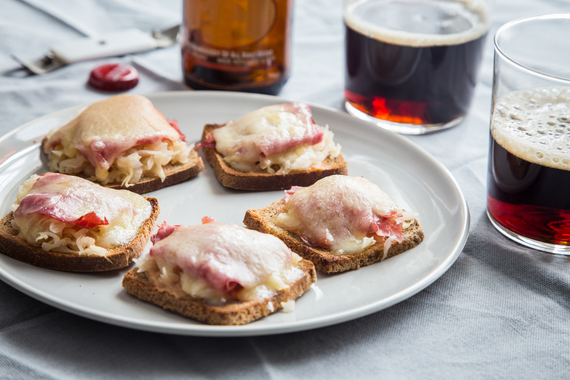 I have a major weakness for mini food, which actually comes in handy when trying to come up with great appetizer ideas. I love taking some of my favorite foods and just turn them into smaller versions of themselves. The miniaturizing makes them perfect for a party and a crowd.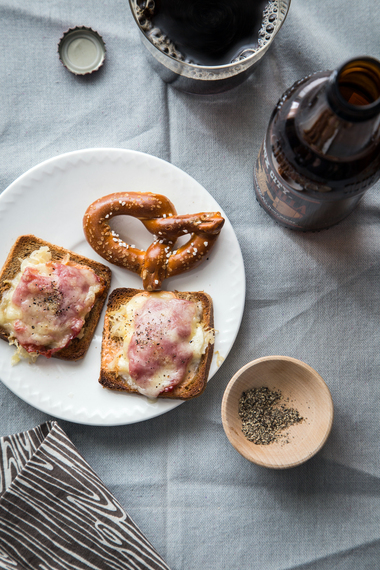 Do you usually have a party for St. Patrick's Day? In all honesty, we don't do anything big, like getting together with friends, especially when St. Patrick's Day lands on a weeknight like this year. Between school and swim lessons, I just don't have the energy to plan a big shindig. But, and this is a big but, I LOVE making Irish inspired food for my family on and around St. Patrick's Day – even if it's just the four of us.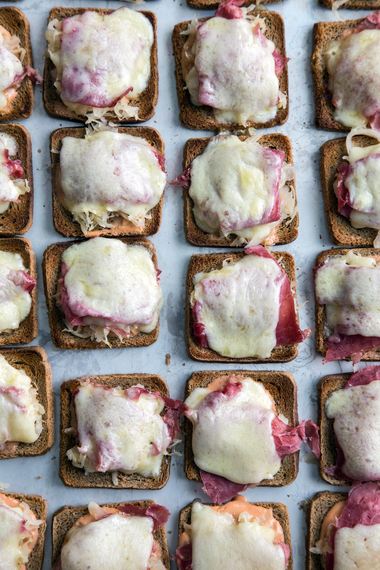 Some years I've made a big batch of Guinness Irish Beef Stew or a classic corned beef and cabbage dinner. But often, I like to mix up some classic flavors and turn our dinner into a little tasting experience. I'll make some Irish beef and vegetable hand pies or some of these mini Reuben toasts. Some of these smaller portions paired with a salad work equally well for a main course as they do for appetizers.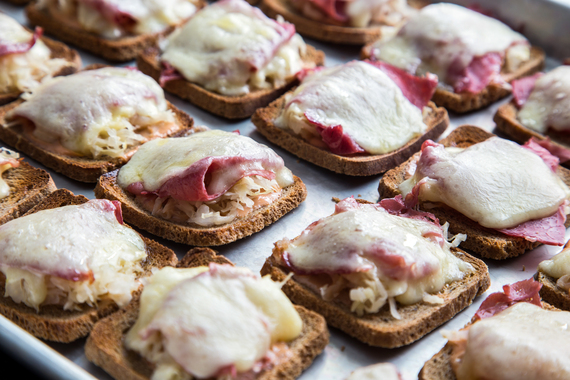 Now, Reuben sandwiches have always been a favorite of mine. I can hardly l resist one when it's on a menu at a restaurant. I think it's something about the fatty corned beef and cheese paired with the tangy sauerkraut. I cannot resist.
These mini Reuben toasts are simply small open faced Reuben sandwiches and so easy to make. You can make a big batch in about 15 minutes, which in my mind is the perfect kind of party food. Pair them with a nice Irish beer (or root beer for the kiddos) and you can have a great little St. Patrick's Day party in the comfort of your own home.
—
About Emily
Emily is known for her absurdly beautiful food photography and coffee co-dependencies on her Jelly Toast Blog. On Food Fanatic, she shares a third addiction: fabulous snacks.
Source: Huff Post