Co-Authored by Jeff Game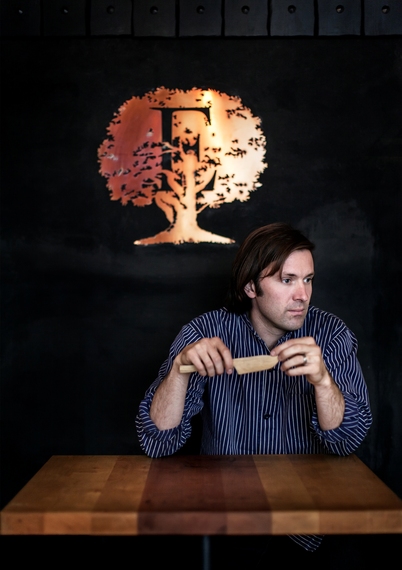 "Stockholm is now the most important place for food in Europe" – Niklas Ekstedt
Swedish TV chef, restaurant owner, fire starter, and all around good guy Niklas Ekstedt sat down to talk about the exploding Stockholm food scene, surviving El Bulli and rocking out to Swedish pop music.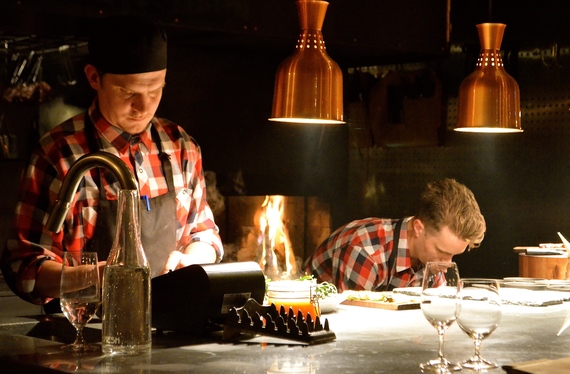 No electricity needed in the primal world of the Michelin star restaurant, Ekstedt, owned by the inventive and laid-back top TV Swedish Chef Niklas Ekstedt. In the heart of the fashionable Östermalm neighborhood of Stockholm burns a bright flame of gastronomic bravery and culinary creativity. While so many modern restaurants these days are foraging in local forests for the nightly dinner ingredients, Ekstedt is using birch wood, cast iron skillets and a whole lot of fire to create a seasonal and ever changing menu at one of the top rated and busiest restaurants in the new thriving Stockholm food scene.
Man on Fire
Gliding into his smoke-filled eatery, while eyes gaze in the direction of the lanky chef, many seemingly recognizing a Swedish TV and culinary star as he walks up to give me a warm and inviting greeting. The buzz in the room is obvious with the Swedish crowd trying to be sly in gawking in our direction. Swedes restrain themselves from first engaging with the longhaired chef. Americans would have mobbed a celebrity of his stature for a couple of selfies already. One thing is clear, Niklas Ekstedt is the same cool, fun and energetic guy that can be seen on his long-running TV travel and cooking show, Niklas Mat.
For over ten seasons on Swedish TV, Niklas Mat has been reaching out to top chefs all around the world, tapping into their own specialties, experiencing the local culture in each city and why they love to cook. With all his savory world travels, Chef Ekstedt clearly roots for his home team Sweden, and wants the world to experience the new Nordic way of cooking and place Stockholm high on the list of any foodie's culinary map.
Specifically, Chef Ekstedt passionately describes what needed to change in the last ten years to the floundering Stockholm food scene, "We needed to do original cooking, no longer import other culinary concepts, and we needed to invent our own ideas." As he proudly proclaims, "Now Stockholm is the most important place for food in Europe," a believable and earnest statement with a pedigree to back it up his confident proclamation.
Even with all his likable charm, Chef Ekstedt is still a smart, ambitious entrepreneur and restaurateur. After stints very early in his cooking career at such gastronomic giants as the ground-breaking El Bulli in Spain and ever intense Charlie Trotters in Chicago, Ekstedt opened his own restaurant Niklas, at the ripe age of 21 and has been making a profound impact on the Swedish culinary world ever since. Working in such legendary kitchens helped a young Niklas Ekstedt shape how he runs his own restaurants today, by creating a teamwork inspired atmosphere and influencing his creative future by getting back to the origins of Swedish cooking techniques. Certainly the nightly staff-curated playlists and blasting Swedish pop music before doors open aid in building a creative canvas to invent nightly experimental and artistic creations.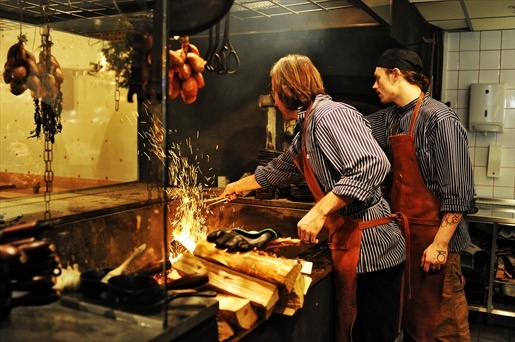 Back to Basics
Bringing traditional Swedish culinary techniques of using the elements of fire, charcoal smoke, and even ash to infuse flavor, texture, and unique taste are the driving simplistic concept of Ekstedt. Heck, they are flat out using ancient tools that cavemen may have used, yet putting the world on notice to their mad culinary skills.
"Because we only use fire and have a Michelin star, that has peaked people's interest from other countries; people have read about us and want to check it out," the young, yet seasoned chef explaining his usual packed house. Consequently, being on TV tends to put a restaurant in the crosshairs of critics; however, Chef Ekstedt credits critics for the early praise and almost immediate success of Ekstedt. "Food critics took to the avant-garde way of cooking and told the public why the food was so important to the new culinary scene."
Walking into Ekstedt gives the feel of a modern-day and posh cabin in the woods, with the relaxing warmth of sitting around a roaring fire. In the open kitchen, tattooed, hipster-looking chefs prepare an inferno of a feast, to a soundtrack of Radiohead and Van Morrison. All well planned intersecting components that Chef Ekstedt offers are from his rustic upbringing in Järpen, Sweden, located about seven hours outside of the contemporary metropolis of Stockholm.
With so much culinary modernism entrenched in kitchens around the world today, Chef Ekstedt and his talented team have kicked it very old school by challenging themselves every day by using what they call "superior flames" as their main kitchen tool. What kind of menu are we talking about at Ekstedt? Some highlights feature a whole pigeon with smoked pumpkin and almonds, goose barnacle cooked in seaweed, scallop with bacon and roe smoked on tar wood, duck breast baked on ember with cabbage bullion or langoustine in crispy chicken skin. The four or seven-course meal is innovative in flavor, with a simple approach to quality cooking. Even the sourdough bread alone, with freshly churned creamy butter, rivals the sourdough Mecca in San Francisco, with a distinctive, handcrafted flavor that is sublime.
Ekstedt is an important player in the evolving Stockholm landscape, and why Michelin came calling only two years after opening the doors. Chef Ekstedt laments on what the Michelin award means to him, "winning the Michelin star is truly a great honor to me, a dream come true, and I still think it is the nicest award in the culinary world." Chef Ekstedt and his talented crew do not rest on their past achievements. Hence, the menu at Ekstedt is bold, current and is constantly inventing millennial comfort food for today's savvy restaurant-goers.
Swedes in many ways are the European-Japanese, with rich cultural traditions combined with an independent spirit for creativity and design. At the same time, today's Stockholm food scene is about generating a community sentiment with an impactful experience in each meal. Like so many other progressive food cities around the globe, Stockholmers embrace the shift in the savory vista that is sculpting the new restaurant culture. Chef Ekstedt proudly expounds, "the most important thing to the Stockholm restaurant scene are the locals making these places successful." Chef Ekstedt continues, "Stockholmers are very open-minded, they love design and want great neighborhood restaurants around the corner from their apartments." This proves the sophistication of the Stockholmer's palate is rapidly maturing.
Only Just Begun
Stockholm foodies have a lot to be proud of these days, with more local restaurants dotting the city's neighborhoods and by the growing Michelin collection of star chefs that are continuing to change the future of the Swedish food culture. The culinary world in Stockholm is as bright as it ever has been, and Niklas Ekstedt is surely one of the leading culinary voices in the new Nordic food scene. With a determined analytical pause, Chef Ekstedt then firmly proclaims how the world will look at the Swedish food scene in the next ten years and beyond, "the Stockholm food scene will look very different in ten years, we are only just starting, a lot of young chefs are opening new restaurants and we have not seen that for many, many years."
For a famous Swedish TV personality, Niklas Ekstedt is not interested in his accomplishments of yesterday. Moreover, Chef Ekstedt is constantly looking toward tomorrow by pushing his gastronomy limits and seeing what he can fire up next. After cooking and traveling all over the planet, Chef Ekstedt's biggest inspiration, and influence is still his own home country, Sweden. This loyalty and passion are why many Swedish chefs like Niklas Ekstedt have found their culinary identity, which in turn makes a globally larger impact in the world's food scene, by adding a whole new food culture. The jury is still out on the influence of blasting Swedish pop music – call that the Roxette affect.
Ekstedt – Humlegårdsgatan 17, in the stylish Östermalm neighborhood of Stockholm
Photos by P-A Jorgensen and Jeff Game
Source: Huff Post