Nina Solomon's first novel, Single Wife (Algonquin 2003), was a Book-of-the-Month club, Literary Guild and Quality Paperback Book Club selection and was optioned by Warner Bros. Her second novel, The Love Book (Akashic/Kaylie Jones Books January 2015), was inspired by her own search for a soul mate, who, she is happy to report, only took 27 days and thirty years to find his way to her. She was born and raised in New York City and has lived in the same zip code since she was five. She is currently working on two projects, a collection of connected short stories and a novel.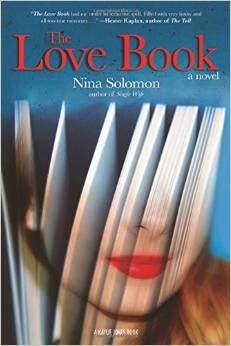 Loren Kleinman (LK): Why do you think readers are obsessed with finding the perfect romance outside the books they read and in them? Why do we love love?
Nina Solomon (NS): The Love Book is not a self-help book about how to find love, and especially not a perfect romantic version of love. Love is so many things. There are as many kinds of love as there are people seeking it. It can be romantic. But love is too often confused with lust or "limmerence" and sometimes obsession. That's not love. You can't love anyone if you don't first have self-love. Yes, when you first meet someone, the world is aglow because you think you've found your beloved, your "other" half. There's no denying that we all love love, but love doesn't unfold in three perfect acts like in the movies. Yes, it's magical and wonderful to find someone who "gets" you, to have someone to share your joys and disappointments with, but it's also complicated, messy, frustrating and above all, challenging. If it's true love, at least, be prepared. Even if it's not forever, it can still be true love and it's going to change you. Love is a catalyst. It helps us discover who we are as human beings and how we need to grow in order to expand our capacity to love more. More deeply, more fully, more intentionally.
LK: Do you believe in love?
NS: Absolutely, but my understanding of love has changed over time. When I was nine, I promised my grandmother that I'd be married by 23. I didn't know it at the time, but I was making, what Katherine Woodward Thomas talks about in her bestselling book Calling in "The One", a contract. I introduced my grandmother to my fiancé, the man I would marry, have a son with, and then 10 years later divorce, while she was in the hospital. I was 23. She died before we got married. Were we soul mates? Did I even know what a soul mate was? How could I have known at 23 who I would be at 33, let alone who I would want to be with, when I didn't even know myself?
LK: The Love Book is a follow-up to your 2003 debut Single Wife and revolves around four unlikely friends who first meet during a disastrous Flaubert-themed bike trip in France. Talk about the role of female friendships in The Love Book. How does friendship, especially the bonds between women, serve as a literary support structure?
NS: All of the characters in The Love Book have blocks to love. I like to think that the bonds between these women help to dissolve and dismantle some of these blocks, but not all. That is an inside job. Cathy promises her father that she'll be his princess forever, so naturally, no one could ever measure up to him. With a little prodding from Beatrice, she is able to see what's been in front of her all along. Max learned from her grandfather never to let down her guard, which is fine if you're a prizefighter, but not that great if you're interested in having an intimate relationship with another human being. Emily helps Max learn to trust again, even though she herself has not been able to let go of her ex. It's not because she wants him back, but because she can't live with the guilt she feels about her part in the dissolution of the marriage. She has to clean up the past, make amends for the mistakes and pain she caused her partner, her son, and herself, before she can even be ready to contemplate the idea of finding a soul mate. Her relationship with all three women helps her move on.
LK: One of your characters is 69. She's independent and fiery. How important is age when it comes to falling in love? Is it possible Beatrice doesn't believe in love at all?
NS: Yes, Beatrice, the fiery 69-year-old, former DA from Albany. Does she believe in love? So she thinks. Is she past her expiration date? Hardly! And she knows it. She turns men's heads of any age. Age is irrelevant when it comes to love, no matter what the odometer says. True love is not reserved for the young or fertile. Beatrice prefers no-strings-attached relationships. But eventually, when Beatrice realizes that her no strings philosophy has kept her tethered out of fear, love even finds Beatrice.
LK: Do all love stories have to have a happy conclusion? Why or why not?
NS: Not all of my characters have happy endings, at least not in the Hollywood sense, meaning they don't all find their soul mate. But they do find what they need. To me, that is the happiest and truest of endings of all and only the beginning.
Source: Huff Post