An abused cat, Bruce Almighty, has made his name known around the world after donations pour in to cover the treatment and recovery costs after his abuse.
Homeowners in Regina, Saskatchewan discovered Bruce Almighty on March 18. He was found with black electrical tape wrapped so tightly around his legs that severe tissue damage was caused causing infection.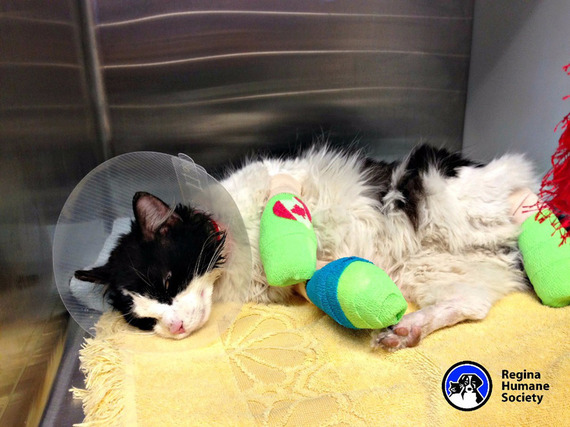 A GoFundMe page has been created by The Regina Humane Society and within just three days, over $13,000 has been raised!
"The pain and suffering he has endured is unimaginable," wrote a senior officer for the Regina Humane Society. Bruce Almighty was named after rescuers observed his fierce determination and will to live.
Sadly, Bruce Almighty's leg may need to be amputated due to the cruelty he endured but for now he remains guarded by the amazing veterinary staff taking care of him.
Lets hope this little guy makes a speedy recovery and whoever did this will be held responsible and suffer the consequences of their actions.
Source: Huff Post