On the "A" w/Souleo: Emerging Artist Creates Interactive Paintings You Can Touch And Hear
Most visual artists prefer that viewers do not touch their completed works on display at a museum, gallery or studio. Thomas "Detour" Evans is not of that mindset. In a series dubbed Art and Decibels, the 30-year-old emerging artist has created interactive paintings that are meant to be tapped at designated touch points to emit music.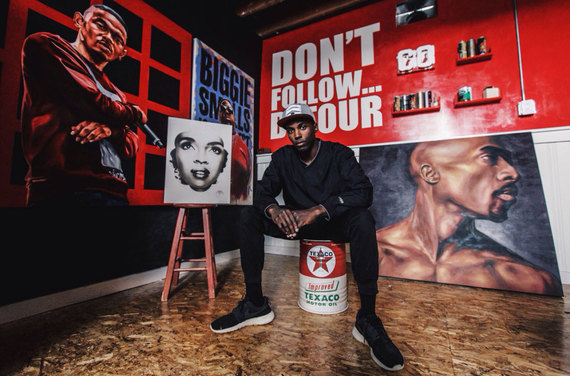 Thomas Detour Evans/Credit: Armando Geneyro
On the surface Detour's works are meticulously painted portraits of popular musical figures, such as Nas, Janelle Monáe, and Kendrick Lamar. But beneath the images lies an innovative technical approach using electric paint, music software, and circuits. The Denver, Co-based artist applies electric paint over dark areas of his paintings, which act as the touch points. From there he collaborates with local musical talent, such as multi-instrumentalist producer Felix Fast4ward, to create beats that are installed on the painting's circuit boards. On average each painting has 12 touch points, each one delivering a unique sound.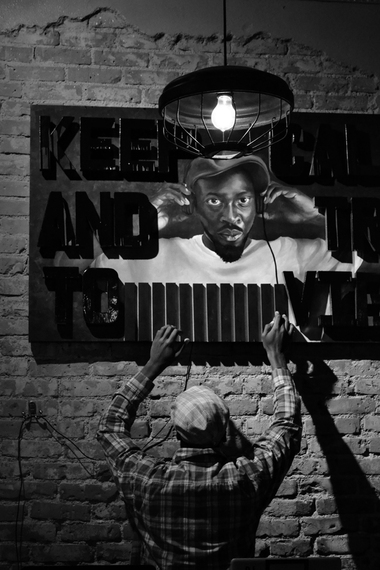 Felix Fast4ward Playing Live on Interactive Painting by Detour
Credit Raymundo Munoz
But along his artistic path Detour lost touch with his dreams and almost missed hearing his own calling.
Prior to his full-time art career he worked in graphic design, marketing and communications. During an eight-month volunteer project in Tanzania for the non-profit, Indigenous Education Foundation of Tanzania he had an epiphany. "Living in Tanzania I did bucket showers carrying my own water and it was hard living compared to America," he said. "But being with the kids there it didn't matter how hard the living was because I was happy. When I came back home I decided instead of pursuing a typical job to go for my dream."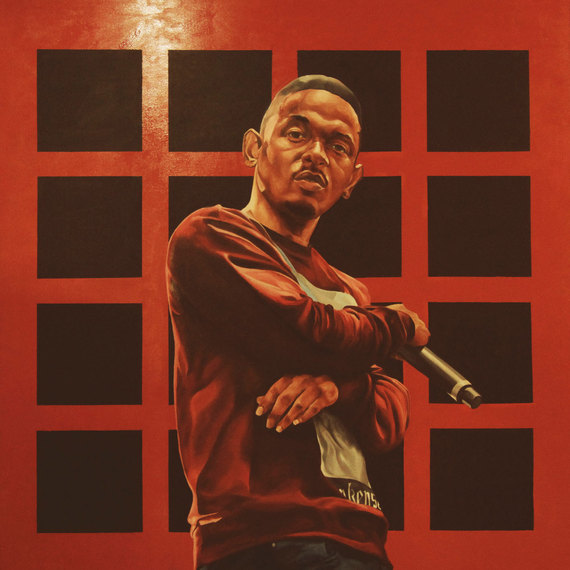 Thomas Detour Evans, KDOT (2015)
Thus far that dream is paying off. In the Denver area his paintings are steadily selling with prices starting at $1,500. Detour eschews traditional marketplaces such as galleries. Instead he opts to display his works in high-end sneaker stores, restaurants, and dispensaries. It is part of his approach to bridge the worlds of art, music, and the audience. "Most of my audience you won't find in high-end galleries," he noted. "I have to be where my audience is which is more important than being at the high-end gallery where you are supposed to defend the work as opposed to execute it and make it art for the people."
And he is focused on taking the people to what he considers the future of art through his interactive elements. "Even when I tell people to touch and play on the painting they don't believe it. It is like a 2050 type of thing I am bringing to 2015."
For a detailed look at Detour's work check out a behind-the-canvas video here.
Afrofuturism-inspired theatrical event with a message for today
Bridging the past with the present and future is at the heart of Afrofuturism, an aesthetic shepherded by the likes of artists including Sun Ra, George Clinton and writer, Octavia Butler. The genre's theme of black liberation and self-expression through the fusion of art, science, and technology informs the new theatrical work Prophetika: An Oratorio, which runs at The Club at La MaMa March 20 to April 5.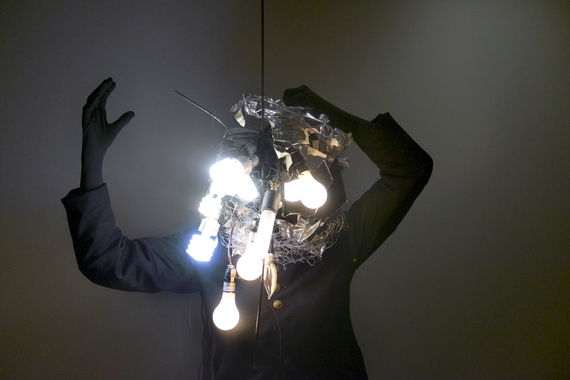 Credit: Sofia Berinstein
The production draws inspiration from sources including Harriet Tubman's journey toward freedom and the music and writings of Sun Ra and Alice Coltrane, for what is billed as a "theatrical event" of sound art, visual art installation, and ritual ceremony.
"I believe that working outside of reality can reveal ways of living and levels of perspective that are empowering, pleasurable and real," wrote director Charlotte Brathwaite, a former player in LaMaMa's repertory group at the age of 16. "I want to create powerful images of identity that are dynamic and full of agency."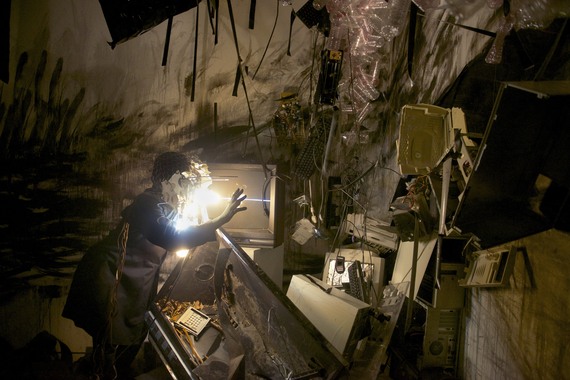 Credit: Sofia Berinstein
To manifest this idea, Brathwaite collaborated with creative individuals, including acclaimed installation artist and costume designer Abigail DeVille and composer/pianist Courtney Bryan. Beyond the arresting aesthetics and auditory experience the show promises to offer, Brathwaite hopes, that the message of empowerment and activism resonates with the audience, especially in a time of present-day conversations taking place around issues of race, police brutality, mass incarceration and income inequality. For her there is much to be learned from Tubman's divine visions and spiritual fortitude that led her to guide runaway slaves to freedom by following the North Star.
"We can learn so much from Harriet's journey. I believe we can follow our dreams. I don't suggest that idea romantically. We can set the vision of the world we want to create, one that is just, where the brutality of corrupt systems are seen and people can shed feelings of isolation and be recognized as full human beings. We're at a time in our country where we need to hear the prophetic voice of a leader in each of us."
****
The weekly column, On the "A" w/Souleo, covers the intersection of the arts, culture entertainment and philanthropy in Harlem and beyond and is written by Souleo, founder and president of event/media content production company Souleo Enterprises LLC.
Source: Huff Post