Oskar Rodriguez: His Road to Hulu's <em>East Los High</em> and Beyond
Oskar Rodriguez is tired, but smiling with excitement. He is currently filming season 3 of the web-series East Los High. The actor portrays Omar on the Hulu Original teen drama. The English-language series has become increasingly popular since its debut in 2013.The show reflects the lives of teenagers growing up in East Los Angeles from the American-Latino perspective. It has real life plots and stories in between the characters. There's sex, drugs, teenage pregnancies, etc. The show features a dance group within the school called "BombSquad." The squad was all-female, but after losing some funding, the captain Ceci decides to make it co-ed.
Rodriguez has been active in the entertainment world ever since he was little. His career started with dance in his native Puerto Rico. "I got involved with dance when a good friend of mine in high school invited me to a dance class one day." Rodriquez says. "The rest is history."
Growing up, his influences he had many influences including Janet Jackson and *NSYNC. "I wouldn't stop looking at their videos constantly and learning choreography." he exclaims. He quickly excelled in dance. After a few short years of training in Puerto Rico, he got to dance with some of the island's biggest names including Chayanne, Ricky Martin, and Luis Fonsi.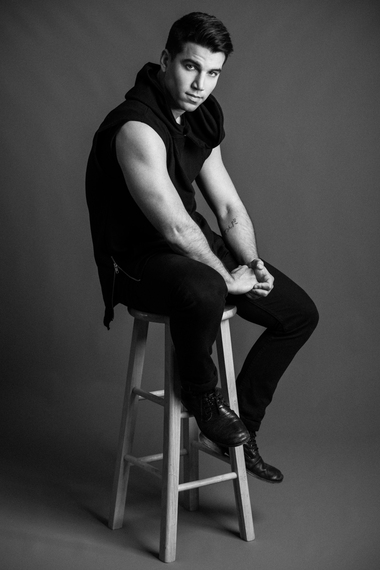 (Photographer: Vince Trupsin)
After moving to the United States to further his dancing career, he settled in Los Angeles. Through his hard work and dedication, he received success in the area of dance and performed with artists like Rihanna, Jennifer Lopez, PSY, and one of his biggest inspirations, Janet Jackson. He was a resident dancer for Shania Twain's Still the One show in Las Vegas and The Muppet Movie. He also appeared as a motion capture for Shrek Forever After and as a dancer in Teen Beach Movie.
He parlayed his dancing skills into the world of choreography and production. He co-founded StoliGrant Productions with partner Marc Cleary and together the creative duo work has been featured on Dancing With The Stars', Ellen, and 'Good Morning America.' They also have choreographed music videos for the likes of Vampire Diaries star Kat Graham. In fact, the duo has worked closely with Graham for years and has helped guide her as both choreographers and creative consultants. "Seeing her grow on her career has been a thrilling and exciting ride." Rodriguez exclaims.
It was during his time on-set of Teen Beach Movie that Rodriguez had a light bulb moment. "Ever since I can remember I would go to the movies and close my eyes and wish to be in front of the camera like that. I was shooting Teen Beach Movie in my native Puerto Rico and it hit me. I want and can do this." He says on his push into acting. Still, he realized it was not going to be easy. "Acting is a craft that needs to be practiced and mastered." He says. So, after saving his money from "Shania Twain's" show in Vegas, he put himself through acting classes with the hopes of helping push his career.
Rodriguez wasn't sure what to expect, when he joined the cast of East Los High. "It was going to be my very first recurring role on a show and felt like I needed to prove a lot for myself." he states. It wasn't until our first table read when he met the whole cast and team and knew he was in for a great experience. "Every single person, from executives, to cast members welcomed me with open arms and the biggest smile on their faces. What I've come to realize is that "East Los" is not just a show, but a family. Everyone knows each other by first and last name and we all have a blast doing what we do. I couldn't be happier not only doing what I love inside this incredible show, but the people I'm working with sure make the JOB a lot more unforgettable." he exclaims with enthusiasm.
Many people travel to places like Los Angeles or New York City in hopes of making it big in the entertainment field. It has always been a difficult field to break-into, but the lure of viral-success has overshadowed the hard work that many go through on their way to the top. Oskar Rodriguez's past, current, and future success is not by accident. It is the product of hard work, dedication, and drive. Where his career will take him, only time for tell. However, with the role in East Los High and other projects in the works, it looks like Oskar Rodriguez's career is just getting started.
For more information on East Los High including past episodes, visit Hulu.com.
Source: Huff Post