Andrew Ti's two-and-a-half year old podcast — Yo, Is This Racist? — has broken a couple of expectations of the medium. It's a pretty damn funny show hosted by a guy with no previous performing chops and the subject matter is that uncomfortable type of ballsy: Ti and his guests answer questions from listeners that are blatantly about racism.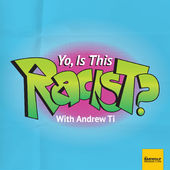 Or rather, whether certain behaviors, or points of view, or habits could be construed as racist.
Oh, and it's a daily show to boot.
The format's simple enough. TI invites various guests to join him, the majority of whom do so for the span of a week. (Actually, they session with Ti once and he chops it up into smaller, daily-sized packages.) This past week, the guest was writer and director John Butler (The Stag), visiting Los Angeles from Ireland.
During the course of the week, the two answer pre-recorded listener phone calls ranging from "Is St. Patrick's Day racist?" on Monday on through the topics of pro-wrestling, casting complaints, Inappropriate audio, and winding up the week on a question of whether a white male can be said to be sporting an afro.
Ti is prone to burst of laughter and the occasional giggle, which comes across as endearing. And Butler hangs back a bit, not quite sure what to make of the proceedings but he wades in every so often with an insightful point and his fair share of witty retorts.
Another nice thing about Yo is that the episodes tend to run between 7 and 15 minutes at most. Time enough for one question, a round robin of answers, and out. Bite-sized questions around racism – it's what the world has been waiting for!
—
Podcasts I'm also listening to this week: Welcome to Night Vale: "We Must Give Praise", and Reply All: "The Time Traveler & The Hitman".
—
This review originally posted as part of This Week In Comedy Podcasts on Splitsider.com.
Source: Huff Post