Ralph Lauren Opens Polo Bar and NY Celebs Flock to It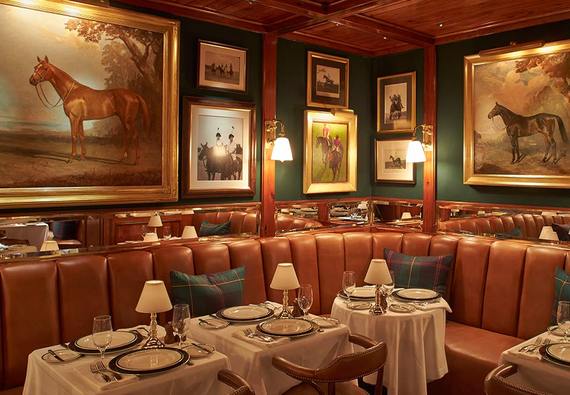 Growing up in the Bronx in the same era as did Ralph Lauren, I never thought our paths would cross until he announced he was opening Polo Bar, set adjacent to his new flagship Fifth Avenue store.
Of course, there's been much clucking in the media about what kind of place it would be–long on promotional designs for his company, short on a commitment to fine dining. But one would be a callow fellow indeed to blame him for using the restaurant as a showcase of RL style, from the polo player logo to a mass quantity of equestrian artwork, as if a branch of a Louisville Breeder's Country Club had opened on the corner of Fifth Avenue and East 55th Street.
Polo Bar, whose name reeks exclusivity, is Lauren's third restaurant (his first, RL, is in Chicago; Ralph's is in Paris), and, according to its website, it is inspired by "classic New York establishments" with dishes that are his "personal favorites." It's a fantasy that's part Scott Fitzgerald, part Frank O'Hara, and part Peter Arno, but with fresh polish. (Le Bernardin's Eric Ripert has said the dining room is "the best lighted restaurant in New York.") Of course, the classic establishment that leaps to mind upon entering Polo Club is `21′ Club, three blocks away across Fifth Avenue, whose own décor includes some equestrian art and whose menu set a template decades ago for the kind of food power people want to eat, or at least order, which includes a whole lot of red meat.
Ironically, for a nice Jewish boy from the Bronx, née Ralph Lifshitz, these were not the kind of restaurants or clubs where Mr. Lauren would have once been welcomed; in fact, the subterranean space of Polo Club used to be home to the original La Côte Basque, a notoriously snobbish WASP watering hole (satirized in a famous short story by Truman Capote) that opened after its French owner at the time, Henri Soulé, refused ever to give his landlord–fearsome Hollywood mogul Harry Cohn–a good table at Le Pavillon because he was Jewish; Soulé thereupon lost his lease and opened La Côte Basque nearby. Now, in the long tradition of the American Dream, Mr. Lauren occupies the same space with his own restaurant where he can come dressed in RL jeans, even a cowboy hat, whenever he wishes.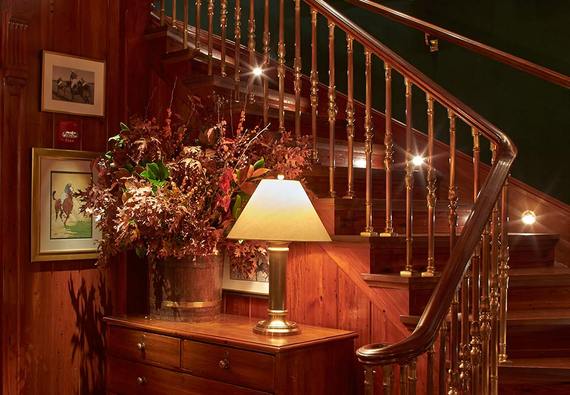 There's plenty of saddle leather at Polo Bar, the requisite Henry Koehler mural, and expanses of woodwork that look as if buffed with bees' wax and lamb's wool. There are charming little lamps on the tables, signature green-rimmed china, thick tablecloths, but, oddly, no flowers. Once inside, you enter a cramped brass-topped bar leading to a small, intimate room with a fireplace a few steps up. Cocktails are pricey: For the $18 Ridgway Margarita you'd expect the bar would use Cointreau rather than cheap curaçao. Bar food like pigs in a blanket, shrimp cocktail and crudités are available. You half expect Don Draper and Roger Sterling up there knocking back Manhattans.
Whoever chose the young staff for the restaurant has obvious familiarity with the look of the models in RL ads: every one, male and female, is fresh-faced, very good looking, and impeccably dressed in RL clothes. Here's one who looks like Audrey Tatou. Another like Julianne Hough. Another like Usher. They seat and serve a passel of aging socialites and celebrities who fill the place at dinner (lunch is to come in a few weeks) the kind of people who, as Scott Fitzgerald put it, have "voices full of money."
What is most impressive is that the entire staff acts as if they had been born on some Gold Coast in the 1920s and never aged a bit, well mannered, secure in their own loveliness. They appear to have just arrived from summer service on a Bermuda yacht or on a Wellesley spring break. How should you dress? Well, without pretense. This is not La Côte Basque.
The dining room is down a not very wide staircase, and it quickly occurred to me that no one but Ralph Lauren could get away with seating his darlings in such a subterranean, windowless space. The room works because its segments and alcoves are arranged so that those who need to see and be seen are not disadvantaged, even if some social climbers fret about which are the "A" tables. (I cannot imagine the agonies the receptionists must go through listening to people demanding tables when there are none and dropping names when their own are not enough to count.)
As noted, the menu strikes no new ground in American gastronomy, and Texas-born Executive Chef Sepp Stoner probably hasn't much leeway to develop his own ideas just yet. But, with stints under Bob Carter in Charleston, SC, and Laurent Tourondel in NYC, he's mastered the techniques that make mistakes on such a menu a rarity.
You begin, as at Tourondel's restaurants, with a fabulous, large cheese-enriched popover and good butter–fast becoming the bread roll of 2015–while you peruse a wine list that seems equally balanced between French (RL himself prefers Bordeaux) and California labels, and mark-ups range from very high among bottlings under $100 to more reasonable at the top levels. An Olivier Leflaive Meursault 1er Cru Charmes 2009 at $220 is almost a bargain.
The best of the starters I tried was the "ranch house chili" ($15) with a warm pecorino biscuit almost as good as that popover. Chockful of meat and a sensible amount of heat, the dish tells you that the chef was born in Texas. Butternut squash soup with wild mushrooms and sage ($13) was a good choice for a very cold winter's night, but tuna tartare got a little lost mixed with avocado, mustard greens and crispy shallots with soy ginger dressing ($18).
The crab cake here is an oddity. When a high-end restaurant's menu in NYC lists a crab cake, it means a fat hockey puck of jumbo lump crab loosely bound; at Polo Bar it comes as a rather flat round, thinly crusted with what tasted like shredded wheat and served with a mustard bell pepper sauce ($17).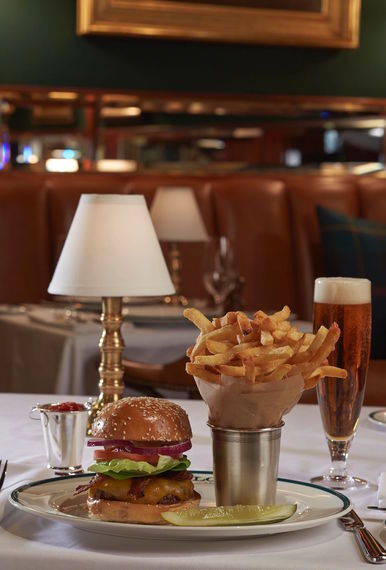 In addition to four "Steaks & Burgers," there are eight entrees labeled "classics," including "Ralph's corned beef sandwich on marble rye" ($22), which I hadn't a chance to try, and a finely cooked, well-fatted Dover sole with a delicious lemon butter sauce, which at $54 is somewhat lower than others around town at similar restaurants.
The beef (sometimes, it's said, from RL's own ranch) is USDA Prime Angus, so I was surprised that the bone-in ribeye ($55), sliced a bit thin, did not have the flavor I would have expected and was decidedly chewy, which ribeyes shouldn't be. It came with hand-cut French fries I had a hard time keeping my fingers away from. Sautéed garlic spinach was fine enough, and mashed potatoes with plenty of butter were irresistible. There is also a vegetarian menu available.
An awful lot of items pin "Ralph" to their description–even "Ralph's Coffee"–and that includes some very good coffee ice cream with dark chocolate shortbread cookies ($10). The brownie is, well, damn scrumptious, and the apple pie ("homemade") with vanilla ice cream and warm caramel sauce ($10) is just barely bettered by the really excellent bourbon pecan pie with whipped cream ($14).
And so, Polo Bar is what it was intended to be, and that is, very attractive, extremely hospitable, a show case for RL style, and at the moment tough to get into–bookings are already a month out. In fact, New York Magazine spent 650 words of pouty text on just that aspect, and the NY Times contends–wink, wink–there is a secret e-mail contact. The food is dependable, of a kind your friends insist is surprisingly good at their country club but never is. Polo Bar's food is far better than that, and if you don't go out raving about it, there is plenty of appeal to a restaurant this carefully crafted.
THE POLO BAR
1 East 55th Street (off Fifth Avenue)
212-207-8562
Polo Bar is open for dinner nightly.
Source: Huff Post