Today I think we can all agree that the art of hosting the "modern" dinner party is no simple affair. Many foods have become more problematic for people with various conditions laid upon their feeding regimens, be it for health, emotional, ethical, or effluvial reasons.
Welcome to your party: Guests these days may bring with them a new tenor of globalized, food conscious, and wonderfully expanded palettes. Therefore, the #hostess must always be prepared for a full assembly of aversions. This week in celebration of my new friends Duncan & Liz of "So You're Dating a Vegan," I'm featuring a wholly non-sentient recipe that will cure every hostesses' opening hors d'oeuvre worries and sooth any vegan boyfriend's night sweats about the genocide of Bessy, Wilbur, and Charlie. Now, I tend to eat a veg. diet primarily, too. However my reasons originate from squeamishness about the industry and procurement for all things animal. In other words, I'm afraid of the chemicals. And Duncan (the vegan of this duet), is not into the blood, slaughter, and inhumanity of the concept in general; he has his ethics and morality to thank for his dietary intake. He's worried about the karma.
So, introducing, Smoky Old Bay "Vegan Scallops" on Toast (Or Royal Trumpet Mushrooms on Toast). These toasts are fortified with all the meaty salty tastes of the sea with no crustaceans harmed in the making. Because who says vegans can't have it all, after all?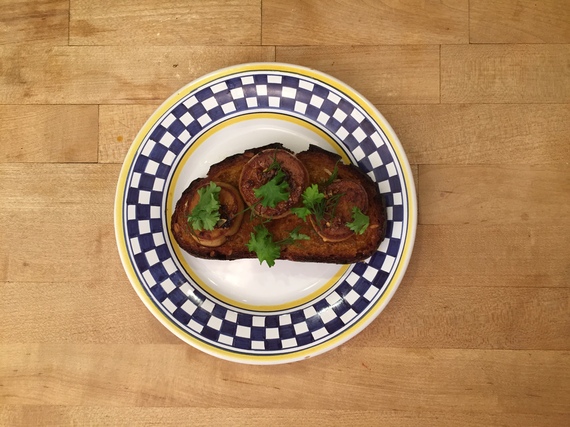 How does one ever replace the divine texture of a freshly shucked scallop? One does not. But, leave it up to thick and succulent Royal Trumpet Mushrooms as stellar veggie stand-ins. Just chop them up to mimic a mollusk and you've got a picture perfect scallop aesthetic with just enough meaty texture to ensure a rich and tender lasting bite. The secret touch of Old Bay will prime any palate for something fresh out of the sea and smoked paprika can recreate all those memories of spicy scallops wrapped in bacon. Let a splash of white wine and garlic bring it all together just like any good batch of boozy mussels. And last but not least, an agave-friendly champagne vinegar and tarragon glaze will add depth and an undertone of luxury for some real "mouth feel" to an elegant, vegan-friendly start to the night. Serve them up a crunch rye toast with colorful sprigs of parsley and dill for color and a burst of freshness.
Smoky Old Bay Vegan Scallops on Toast (Or, Royal Trumpet Mushrooms on Toast)

1 cup of champagne vinegar
2 TB of agave
1 sprigs tarragon
1 lb royal trumpet mushrooms
2 TB olive oil plus more for drizzling on bread
1 tsp smoked paprika
1 tsp old bay spice
1 clove garlic, minced
1 clove garlic
2 TB white wine
4 slices rye/whole wheat bread, ½-inch thick or pumpernickel/black bread
2 tsps parsley leaves
2 tsps dill fronds
1. Preheat oven to 350F. Line a baking sheet with parchment.
2. Make balsamic glaze: In a heavy saucepan, bring to vinegar to a boil with the tarragon and whole garlic clove. Reduce heat to a hard simmer and add the agave. Let reduce until mixture measures about ¼ cup, about 15-20 minutes. Set aside.
3. Lay bread slices on parchment. Drizzle with olive oil on both sides. Toast for 5-10 minutes. Set aside/Meanwhile….
4. In a medium bowl, mix olive oil with paprika and old bay.
5. Cut caps from mushrooms and reserve for another purpose. Slice the stems into scallop-size rounds. Toss in the spice oil.
6. Heat a sauté pan over medium heat. When hot, add the mushrooms in the pan. Sautee them like scallops, until seared well and golden on both flat sides, about 4-6 minutes per side.
7. Add minced garlic and wine to pan and mix with the mushrooms until garlic is translucent and wine has cooked off, about 2 minutes.
8. Rub toasts with halved garlic. Top with sautéed mushrooms and drizzle with balsamic glaze. Sprinkle with chopped parsley.
Makes 4 toasts.

Follow Jill Donenfeld on Twitter: http://www.twitter.com/theculinistas
Source: Huff Post