Final farewells are usually loaded with conflicting emotions. Although we live in an age where technology allows us to listen to recordings of a loved one's voice, view their pictures, and share stories about them, nothing is quite the same as a warm hug, a tender kiss, even the way they smell when their arms are wrapped around you.
One could question whether it's a loss of comfort or a loss of intimacy, but with the disappearance of a cherished friend or beloved icon, things change. No matter how one approaches the moment, it's with a bittersweet understanding that all good things must come to an end.
Two recent events brought the old saying "Parting is such sweet sorrow" into surprisingly clear focus. In an odd way, a short film reinforced the adage that "In space, no one can hear you scream." And yet, the stoked audience that filled the Orpheum Theatre in San Francisco for the opening night performance of Dame Edna's Glorious Goodbye couldn't have had themselves a better time.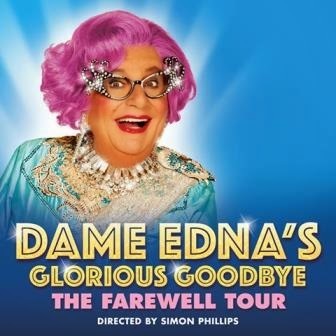 Poster art for Dame Edna's Glorious Goodbye
* * * * * * * * * *
One of the more intriguing films screened during the 2015 CAAMfest was part of a program of shorts entitled Tales of Tomorrow =. Set in the year 2021, the action takes place aboard a spaceship launched by India whose mission is to try to colonize a distant planet in the hope of creating a new home for humans.
The advance team of astronauts is headed by Pankaj (Ravi Kapoor), Naaz (Hina Khan), and the spaceship's dying captain, Rishi (Anjul Nigam). With no chance of returning to India, once they receive word from Earth that they are the only hope for a fresh start for humanity, Pankaj and Naaz face a heartbreaking decision. Keenly aware of his failing health, Rishi has committed suicide by removing the nasal cannula which was supplying him with oxygen. But because they cannot bring any decomposed organic material with them to a new planet, his two heartbroken colleagues must dispose of Rishi's body by releasing it into outer space.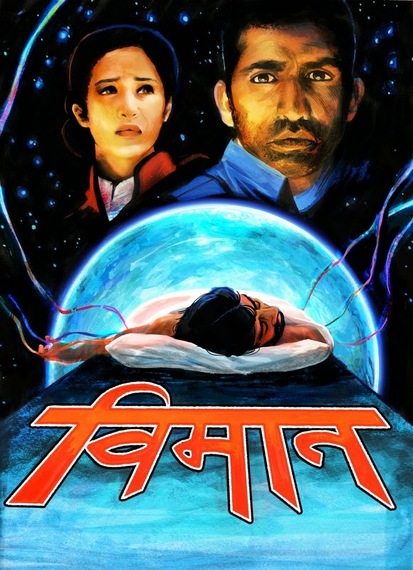 Poster art for Vimana
Beautifully written and directed by Faroukh Virani for his USC thesis project, Vimana takes its name from the mythical flying chariots and palaces that were described in ancient Hindu, Jain, and Sanskrit texts. As we approach the 50th anniversary of Stanley Kubrick's groundbreaking 2001: A Space Odyssey, it's fascinating to see how a small independent film can look so realistic, thanks largely to Maria Dirolf's production design, Zhe Chong's visual effects, and Alejandro Ernesto's cinematography. Here's the film's cheeky Kickstarter appeal:
* * * * * * * * * *
David Martin Bruson (the author of Dame Edna, the Megastar Who Cares) traces the beginning of Dame Edna Everage's spectacular career in show business to her first appearance at the Union Theatre in Melbourne on December 13, 1955. As he notes;
"Barry [Humphries], a student actor, had been touring Australia in a production of Twelfth Night starring opposite a then unknown Zoe Caldwell. The company would travel from town to town on a bus. They would ultimately be greeted by the lady mayor or chairwoman of the local Art Society who would thank them for coming. Before they would get to the next town, Barry would give a preview of what he thought the next lady would say. He named her Edna. Later, Barry's director suggested he write a short sketch for Edna and present her on stage. Barry had thought Zoe Caldwell would play Edna, but the director decided it would be funnier for Barry to do it as a pantomime dame. Thus, Edna Mae Everage was born."
Recently, while watching a segment of Women in Theatre on YouTube, I heard Caldwell explain that when Humphries approached her and suggested that she portray Edna, she couldn't find anything she could bring to the character. "YOU should do it," she told Humphries.
And thus a legend was born. Or perhaps a rhinestone-studded, mauve-haired monster who doesn't hesitate to explain to audiences that, after having had a coffee enema at an ashram in India, she promptly fell asleep and spent the rest of the night face down on her bed while staring at the ceiling. Edna went to great lengths to explain to the audience that if there were any empty seats, they probably belonged to subscribers — stressing that if the seat was empty, it probably meant that (although paid for) the subscriber must have died. Whether bemoaning her late husband Norm's loud prostate murmur or her daughter's poor hygiene, Edna has never applied much of a filter to her deliciously tacky thoughts.
Dame Edna's Glorious Goodbye touched down at the Orpheum Theatre for a brief run where, despite some horrible distortion caused by poor sound design, there was no doubt that, at the ripe old age of 81, Barry Humphries had lost none of his wit, energy, or outrageousness. Having appeared around the world as Dame Edna for nearly 60 years, he's decided to retire from touring, as he explains in the following video clip:
Whether playing to the "paupers" in the balcony or her "possums" on the main floor, few entertainers can work a live audience as deftly (or mercilessly) as Dame Edna. And whether ragging on a senior citizen or briefly loaning a fake diamond bracelet to a young woman for just long enough to explain why holding on to it could spark a friend's betrayal, Edna delivered her shtick in the fun-loving fashion that has endeared her to audiences worldwide — even those poor, terrified souls seated in the front rows of the orchestra.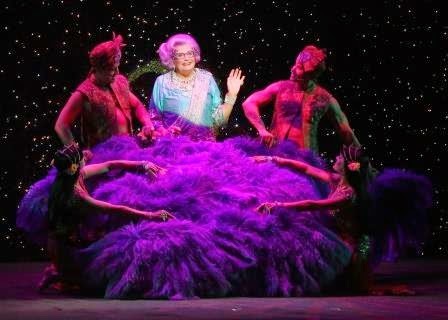 Dame Edna's dancers surround her with lots of ostrich plumes
One of Edna's longstanding routines is to call someone up to the stage and lovingly terrorize them. On this occasion, she doubled the fun by choosing a middle-aged gay man and an elderly woman. After a few comedic bits, she then proceeded to perform a fake marriage between this very odd couple (the feisty woman proved to be a bit of a challenge even for Edna). Then Edna had a phone brought onstage by one of her assistants and proceeded to call the man's mother in the Midwest to tell her about her gay son's new marital status. Needless to say there was a great deal of eye-rolling and rubber-faced grimacing as Edna listened to the conversation (especially when she learned that the man's mother had no idea who Dame Edna was).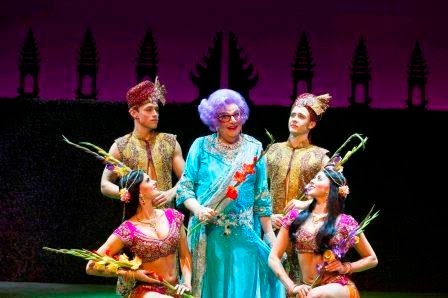 Dame Edna and her supporting cast prepare for the gladiola toss
Following the show's traditional tossing of gladiolas to those seated in the front of the orchestra, Edna exited the stage while a video tribute to her career played for the delighted audience. When the lights came up, Barry Humphries was standing center stage, nattily dressed in a smoking jacket. His farewell speech was poignant, deeply touching, and cheered by one and all. Rest assured that there was nothing final or funereal about the moment. A wildly good time was had by all!
To read more of George Heymont go to My Cultural Landscape
Source: Huff Post