Supply and Demand: Communal Living in New York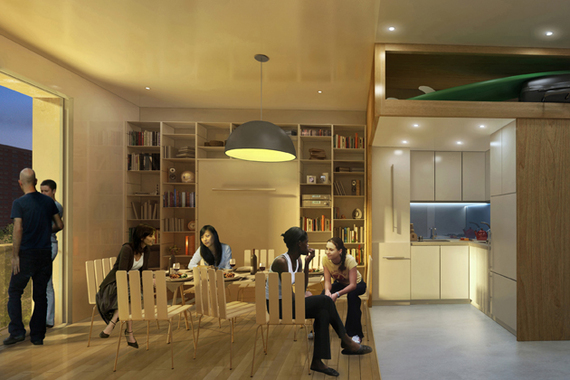 Photo Credit: Bloomberg
Dormitories for adults.
This may be a solution to the limiting rental market that young New Yorkers need.
Launching this community style of living in New York City is Campus, a San Francisco based company "that creates a co-living community for young professionals." Campus has already taken over spaces in four buildings across the boroughs from Park Slope in Brooklyn to the Upper East Side.
Aimed at recent graduates and young professionals, the apartments offer private bedrooms with communal furnished living areas, kitchens and bathrooms, with occasional outdoor space, on-site laundry, and even private bathrooms. The most radical perk of them all is the elimination of the 12-month lease in favor of a month-to-month contract.
Shared living is not so unfamiliar to communal office space start-up, WeWork, which "charges membership fees to local start-ups and small businesses" to work in the same environment as other young professionals. While WeWork has been proposing their launch into New York's communal residential industry for some time, they have teamed up with Vornado Realty Trust to launch a similar style building just outside of Washington D.C. However, a recent proposal would add two additional floors of WeWork style office space to the residential building, expanding the potential for future hybrid buildings.
The communal living market in New York, as represented by the Campus properties, certainly has its benefits and drawbacks.
An intimidating aspect of renting in New York is the 12-month long lease, which can be especially hard to commit to when just entering the workforce or even just coming to the city, whereas Campus eliminated the stress. Often times locating an available room when without a roommate to search for an apartment with leads to utilizing sites such as Craigslist — Campus may be an alternative to such sites boasting its credibility and visibility.
However, these perks come with a cost. According to The Daily News, experts believe "residents on short-term leases would likely be willing to pony up more money per square foot than in a traditional situation." The Campus website features available units ranging in cost from $1,210/month for a 52 square foot private bedroom with seven additional housemates on the floor on the Upper East Side to $1,650 for an 83 square foot room on a floor with just one other person in NoMad.
As there is no end in sight for the migration of young professionals to New York, it would seem as if communal living spaces — and companies — have just begun. While their progression may lead in different directions, perhaps providing a more cost-friendly option for those in need, the demand will certainly be calling.
Source: Huff Post