For most global travelers flying coach is a reality that's never going to change, with those first class seats forever out of reach somewhere at the mysterious front of the fuselage. However, with recent changes and advancements in airline services, economy flying no longer has to be taxing, and whether your flight is a long-haul overnighter to the other side of the globe, or just a short domestic hop, there's usually plenty of creature comforts on offer to make things better.
When it comes to airline food, the changes have been colossal, with on-board meals graduating from processed dishes to fresh and healthy dining that's infused with the tastes and cultures of the airlines that offer them. To make sure you get the most flavorsome trip possible this year, be sure to check out this selection of the world's best economy class caterers, all courtesy of acclaimed airline awards body, Skytrax.
10. Lufthansa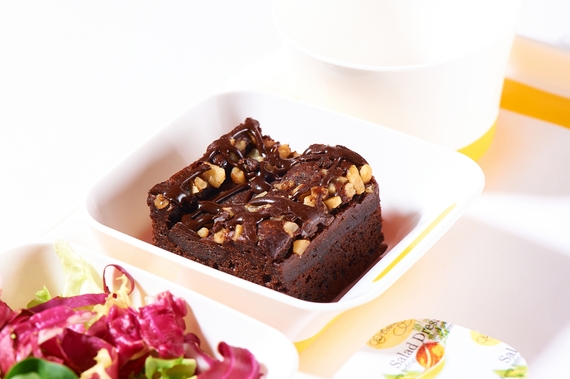 Standing strong for Western Europe on this list is the much-lauded German flag carrier, Lufthansa. Economy passengers with the aviation giant can expect to enjoy a healthy, fresh and tasty range of refreshments, all infused with the flavors of the continent and the Med. There are crispy croissants, juicy fruits, heavy rye breads and soups galore, not to mention oodles of frothy Bavarian beers on board! Lufthansa also have plenty of options for travelers with specific dietary needs, from gluten free meals to low cholesterol foods.
9. Garuda Indonesia
It's no secret that the economy offering from Garuda Indonesia is truly top-notch. Not only did they garner a second-place spot on Skytrax's coach ratings overall last year, but they also gained accolades for their cabin crew services, which means passengers can expect a truly memorable experience in the air when flying with the flag carrier. However, the bonuses don't stop there, because apparently Garuda's food menu is also something to write home about–touting a mishmash of spicy nasi goreng rice dishes and international staples besides!
8. EVA Air
Start the day with a dollop of Chinese porridge while taking off from the runways of Taoyuan International, then, settle down for a lunch of healthy Taiwanese steamed rice, and finally, an evening of international red wines and Asian beers as you descend to arrive in one of the four continents currently on EVA Air's line-up of destinations. Sounds good? Well that's because it should, with the Taipei-based carrier touting a respectable eighth place on this selection of the best economy catering services currently criss-crossing the skies.
7. ANA All Nippon Airways
With a motto that reads 'Inspiration of Japan', it's hardly surprising that the economy class food offering of ANA All Nippon is heavily influenced by the flavors of the east. But who's complaining? Not many apparently, especially with that line-up of passenger-voted dishes, those citrus-packed Aromatic Kabosu cocktails (the airline's own creation), Chardonnay reserves, spicy curries, steamed chicken quenelles, sockeye salmon fillets, yellowtails in soy sauce, bento-style fish cuts and Italian potato gnocchi on the menu!
6. Singapore Airlines
Bolstered by the multiculturalism and cosmopolitanism of their home nation, fla- carrying Singapore Airlines throw up a mishmash of flavors from right across the globe. On some flights there are Chinese noodles in spicy gravy sauce; on others there are Italian ragus with steamed vegetables. Some fliers enjoy bubbling curries straight out of Little India; others settle for marinated chicken breasts or fish. And to back it all up, this one also offers a range of sweet treats for dessert; complete with muffins, ice cream et al.
5. Cathay Pacific Airways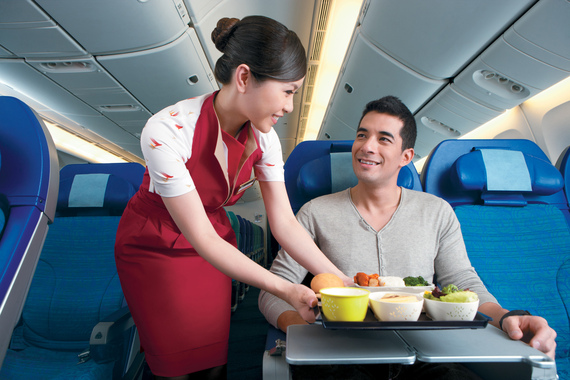 Searching for the cheapest flights? Download Hopper's new mobile app, set up fare alerts, and we'll tell you when flight prices are at their cheapest.
Offering the perfect culinary introduction to travelers heading across to bustling Kowloon, Victoria Harbour or the stylish eateries of Wan Chai and Causeway Bay, Cathay Pacific have done well to imbue the menus of their economy class with the flavors of Hong Kong cuisine. That means oodles hot noodle soups, freshly-cooked rice dishes and oriental curries in excess. Oh, and don't worry if you've got a special request either, because Cathay have covered all the bases–from vegetarian Hindu curries with a twist of spice, to gluten free dishes and low lactose foods.
4. Etihad Airways
Touting a simple a la carte of three separate main courses, a fully complimentary bar service that's loaded with spirits, beers and international wines, and a separate café laden with tea, coffee and pastry snacks to boot, UAE-based Etihad slip neatly into the top five here. Expect to enjoy a whole load of Middle Eastern flavors, with Emirati curries rubbing shoulders with saffron rice, next to oodles of international staples that are testimony to the carrier's origins in the multicultural megalopolis of Dubai!
3. Asiana Airlines
Given that Asiana Airlines hail in from one of the world's most up-and-coming foodie meccas, touting a catering team that has no doubt had first-hand experience of Gangnam's steamy food courts and Seoul's barbecue joints, it's hardly surprising that they sit at a distinguished third place on this list. Consequently, economy fliers with the Incheon International-based carrier can expect a flavorsome cook-up of Korean noodles, spicy soups, Japanese-style dishes and fresh vegetable salads straight out of Asia.
2. Turkish Airlines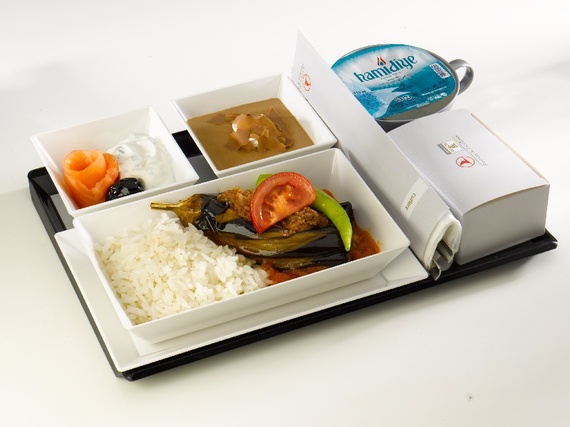 Dedicated to bringing passengers a taste of Turkey while criss-crossing the skies, the economy class catering services of this national flag carrier offer up a range of super-fresh Mediterranean sandwiches, cold and hot continental breakfasts, gritty Greek coffees and the like, all framed by a safer mix of international tastes for the less adventurous traveler. That should be plenty to prep the taste buds for all those tandir kebabs, sweet baklavas and kuru fasulye beans in the street food stalls of Istanbul and Ankara!
1. Thai Airways
In a taste-bud-tingling medley of peanut pad noodles, massaman curries and Southeast Asian rice dishes, national flag carrier, Thai Airways, soars straight to first place on Skytrax's selection of the top economy class caterers currently in the air, which is great news for any travelers looking to prime their palates for the fragrant eateries and roadside food stalls of Bangkok's Banglamphu! And don't worry if you don't fancy the flavors of the east either, because there's also a range of international dishes on offer, and–of course–an open bar!
Liked this article? Check out The Five Airlines with the Best First Class Food (for when you're flying in style) and The 10 Airlines with the Best Economy Class Seats (for when you're stuck in coach).
This article originally appeared on Hopper.com.
Source: Huff Post