The 6 Destinations You Absolutely Need to Visit This Spring
By: Gianni Jaccoma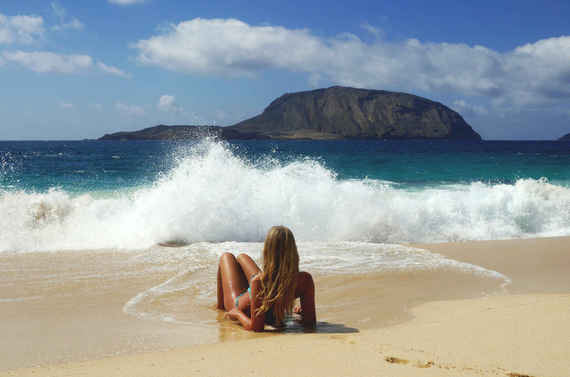 Credit: Flickr/Simon Turkas (edited)
Winter's well and dandy, but by the time March rolls around, pretty much everyone's fed up with the whole "bitter cold and bubble jackets" thing. Now that spring's near, rather than just watching leaves come back, which is nature's equivalent of watching paint dry, why not go somewhere extra awesome to punctuate the season change?
With that in mind, we've put together a list of 13 unbeatable springstinations (that should totally be a word) ranging from North Africa to South America.
More: The 18 Worst People You See At the Beach
Tel Aviv, Israel
Why you're going: To soak up the Middle Eastern sun and hit on Israeli stunners.
Flights to Israel's second-biggest city are a lot less expensive than you'd think, especially if you're bypassing the peak seasons (summer and Christmas). While the temperatures definitely are starting to rise come spring, the worst you're looking at is a 78-degree day, which is nothing by Middle Eastern standards. They won't reach unbearable levels until the depths of summer roll around, so laying out on the sand at Banana Beach is still a reasonable proposition — especially considering the number of dead-sexy singles in this town.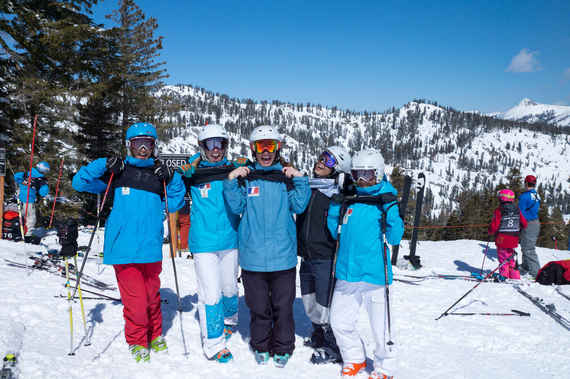 Credit: Flickr/Jack Nickel
Lake Tahoe, CA
Why you're going: To shred corn snow and get your aprés on.
If you thought skiing was exclusively a winter activity, well, stop thinking that, because most of the slopes at Lake Tahoe's 12 mountain resorts are still decked out in powder well into April, and thus are still open. The snow around this time of year is referred to as "corn," either because of its granular shape or because skiers thought "cauliflower snow" just sounded unappealing.
Whatever the reason, this springtime snow has a unique consistency that makes it not only fun to ski on, but a lot safer and less avalanche-prone as well. Unless, of course, you're skiing later in the afternoon, at which point the prolonged exposure to sunlight makes it a lot soggier and not at all fun. But at that point, you should already be in full aprés mode at one of the world's best party mountains, so who cares!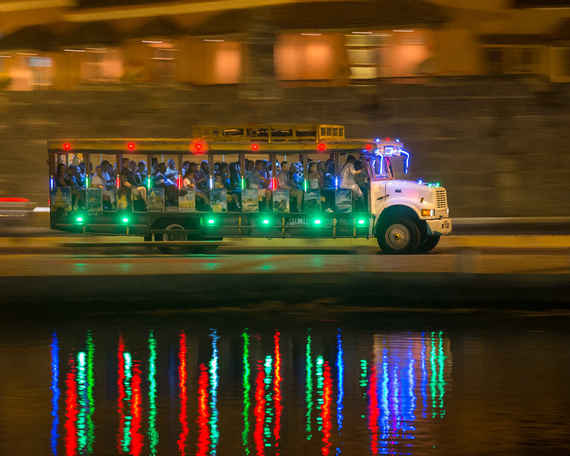 Credit: Flickr/Louis Vest
Cartagena, Colombia
Why you're going: To bump around the Caribbean coast in a raucous party bus.
Hit the town on a Wednesday night in Cartagena and you'll wonder if a time warp fast-forwarded you to Saturday. Surprisingly, hump day's the biggest party night of the week, with hoards of tourists, hawkers, and students alike lining the streets of the Getsemani neighborhood, particularly around Calle Media Luna, where cheap hostels and bars abound. Head just a block over to the Plaza de la Trinidad where even more people will be mingling and slugging street beers. When a liter of cerveza costs just $1.50, it's hard to say no. And to get some culture with your booze, hop on a Chiva bus to drink during an open-air city tour. It's not the safest thing ever, but it sure is a good time.
No matter the day of the week, it's nearly impossible to walk five minutes without having someone try to sell you… well, that stuff Colombia used to be famous for. Everybody's got a connection, and is willing to offer. Politely decline — unless you're OK with potentially having police escort you to an ATM, where they'll pocket your max withdrawal as a tradeoff for not ending up in a Colombian prison.
When you need a break from all the partying, take a bus or taxi out to Playa Blanca — a serene respite from a city built on having a great time.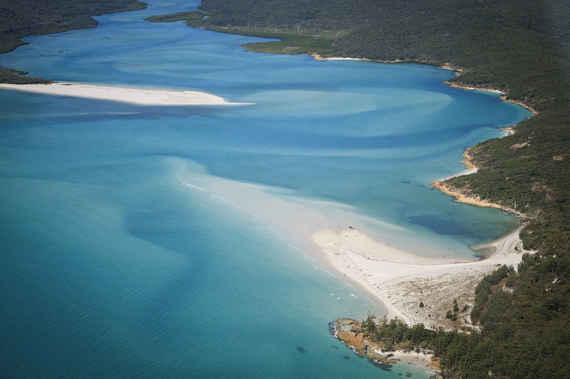 Credit: Flickr/Sebastian Cruz
Whitsunday Islands, Australia
Why you're going: To walk on squeaky sand and swim in a natural wonder.
On top of being intoxicatingly beautiful, Australia's Great Barrier Reef is one of the seven natural wonders of the world, and truth be told, you can't go wrong no matter which of its 1,400mi you visit during the dry season. That being said, your move has to be the Whitsunday Islands: they've got the only commercial airport in the Great Barrier Reef (on Hamilton Island, the largest inhabited island in the group), which makes for easy access from pretty much every major Aussie city, and thus wherever you're flying from.
Catch a helicopter or seaplane to view the reef from above, or hop a boat from Hamilton to Whitehaven Beach. The impossibly white sand is made of 98% pure silica and actually reflects heat, so it won't scorch your toes if you walk barefoot. What it will do is squeak when you walk on it, making it the most adorable sand in the world.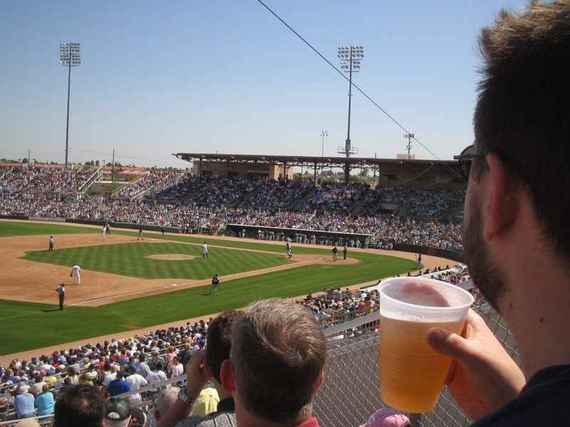 Credit: Flickr/Scott Robbin
Phoenix, AZ
Why you're going: To eat killer BBQ and watch baseball games.
When it comes to Spring Training, there's no competition: the Cactus League beats the Grapefruit League, every time. This is indisputable, practically speaking, since the Cactus League's stadiums are all conveniently located within the Phoenix metro area, while the Grapefruit League's stadiums are strewn haphazardly across South Florida. By hitting up the Valley of the Sun, you not only ensure you have easy access to whatever games you damn well please, but you're also at the doorstep of one of the hottest towns in the country (literally and metaphorically).
It's not all about baseball here, though — Scottsdale is home to the Arizona BBQ Festival, which is as excellent as it sounds: live music, bourbon for days, and of course, all the sticky short ribs you can get your grubby mitts on. Which is a lot, since you've got mitts instead of normal hands.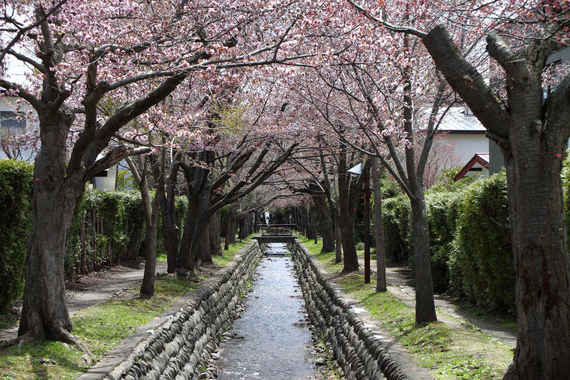 Credit: Flickr/Miki Yoshihito
Sapporo, Japan
Why you're going: To drink sake, look at cherry blossoms, and drink more sake.
Sure, you could go visit Washington, DC to get a look at some cherry blossoms, but the Japanese don't play around when it comes to blossom-gazing, called hanami: it's basically a national tradition that involves hanging out with friends, looking at cherry blossoms, and drinking sake. The national weather service actually releases an annual "blossom forecast" that predicts the peak time for scoping out pink petals throughout the country (timing matters, since they fall off the trees after only a week or two). Hokkaido's blooms appear relatively late in the season, thanks to its higher latitude, which gives you more time to plan your visit around local highlights — like, say, the Sapporo Beer Museum in Sapporo (of all places).
Head to Thrillist.com for 7 more great destinations to put on your spring bucket list!
More from Thrillist:
The 12 Best Spring Breaks Now That You're an Adult
The 18 Best US Beaches Where You Can Drink (Legally)
Follow Thrillist on Facebook: www.facebook.com/Thrillist
Source: Huff Post