The Best "Unusual" Lipsticks on a Budget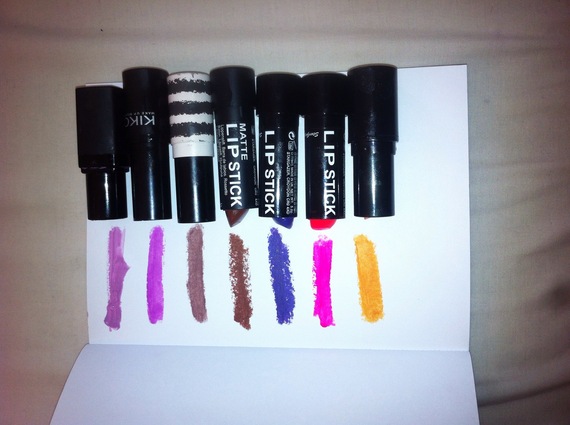 L-R: Barry M 129, Kiko 923, Topshop "Boardroom," Stargazer 208, 130, 106, MakeUp Revolution "Vice"
Although looking "pretty" is sometimes the aim of doing makeup, you'll be amazed to hear that it isn't usually my primary goal. I like makeup that is either interesting and challenging or ridiculous and ugly, depending on who you're talking to. More often than not, the lip colors which tend more toward the bizarre appear primarily in expensive brands – Illamasqua, MAC and LimeCrime spring to mind. But when I want a lipstick which everyone in my life is going to hate, my first port of call is furious googling for something cheap and cheerful. These lipsticks are not everyday staples, and won't necessarily make you look "better," but they are unusual and fun and sometimes that is all you want from lipstick.
Barry M, a British drugstore brand available on ASOS.com, make some great silly lipsticks. My favorite is "129 Palest Lavender," which is like an extreme version of a baby pink. Baby pink for lipstick wearing experts, if you will. Because it is such a girly color, it sort of undermines its own girlishness, going past the point of pretty and into the territory of crazy. But in a good way, of course.
Kiko is another brand which is great for crazy colors. There are stores in London and around the New Jersey area, and a website with UK and European shipping. I have the catchily named "923" lipstick, a bubblegummy electric purple. It applies with quite a sheen, toning it down very slightly into an almost-not-crazy bright pinkish-purple. I like this worn with an almost bare face and an all-black outfit, as it perfectly walks the fine line between Disney Princess and teenage witch.
Everyone knows Topshop makes great ridiculous lipstick colors, right? They are a "fashion" brand with high street prices, so their lipsticks fit that brief perfectly. I am in a committed relationship with the color "Boardroom," a taupey-brown. It has absolutely no warmth to it and makes you look like the HBMIC (head bitch most in charge). Patted on lightly, this lipstick removes any warm, pink tones from your lips in a surprisingly wearable way – but I'm not here to talk about wearability. I apply this like I mean it, with lots of mascara and highlighter to counteract the somewhat corpse-y vibes.
MakeUp Revolution is another brand which does a great job at less-wearable lipsticks – and they all cost an unbelievable £1. They have some shads which even I find a little bit "out-there" – a dark green called "Serpent," or an egg-yolk yellow called "Felony". I have the shade called "Vice" which is a true orange without any of that red-toned nonsense. It applies like a much more expensive lipstick, and lasts pretty well with even fading. Think of it as an intense peach color to trick yourself into finding it easier to wear. This is a great summer color for those bored of the usual pinky-corals.
But my personal favorite brand for lipsticks shades that just don't exist anywhere else is the pre-teen favorite, Stargazer. They do lipsticks which are pretty high quality (albeit in uber-crappy packaging) and the colors are just nuts. Three of the maddest are 208, a matte chocolate brown; 130, a navy-purple, and 106; the most neon red-pink I've ever seen. I don't know what is in this color which makes it appear to be incandescent on the lips, and I don't know why every lipstick doesn't contain it. When I wear these I very much let them be the focus of my look, allowing me to care little about what else I'm wearing (bonus!). If you like unusual colors, but don't like dropping a dime on them, Stargazer pretty much has you covered. I get mine from Amazon.
From one mad lipstick fanatic to another: some hot tips for what I deem unusual-but-still-wearable lipsticks. And the price tag means that even if you only wear them a handful of times, it isn't a fiscal tragedy. So, am I missing out on anything big in the cheap, ridiculous lipstick game? I have an appetite for lip colors which make my dad visibly wince, and that appetite is insatiable.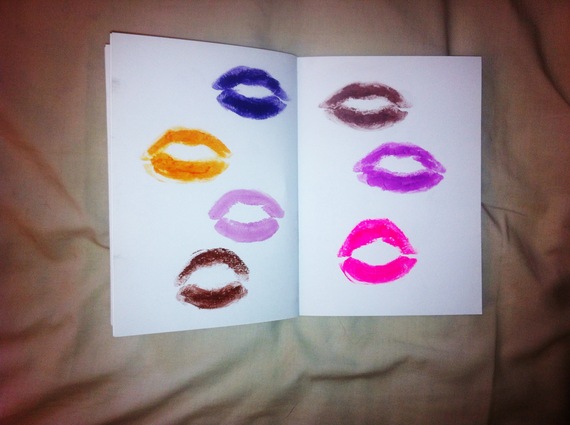 Source: Huff Post