'The Divergent Series: Insurgent'
Up until now, The Divergent Series couldn't hold a candle to The Hunger Games franchise, though they are both cut from the same cloth: teen girl hero, sci fi adventure, mean overlords and hunky boyfriends. The Divergent Series: Insurgent doesn't change that dynamic much, but during its final minutes, it ups the visuals to a level that almost compensates for a weak beginning.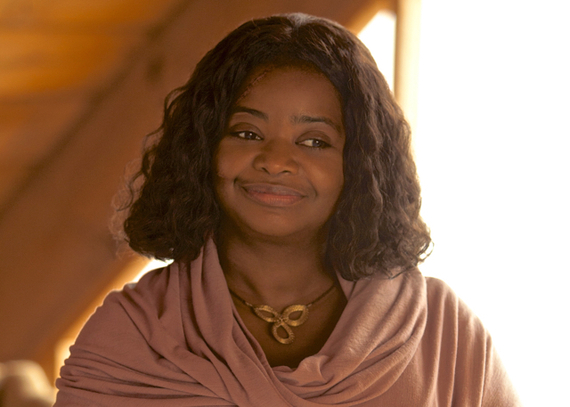 (Photo courtesy of Summit Entertainment)
Octavia Spencer co-stars in The Divergent Series: Insurgent.
The rehash: The world, 200 years from now, has been neatly divided into five classifications or "factions." The "Divergent" group doesn't neatly fit into any of the other sectors. They are hunted like deer by the very jealous Erudite faction, which is run by the evil Jeanine (Kate Winslet). The mean queen, who looks like she has swallowed a whole lemon, has confiscated a magic box with unknown powers. Evidently the only way to open it and reveal its treasures is to get a Divergent to go through a treacherous five-stage simulation, which often results in death at stage three.
Jeanine has sent her army out to capture the perfect victim. Meanwhile Tris (Shailene Woodley) and her man, Four (Theo James), who are Divergents, are dodging the mean queen's soldiers, led by Max (Mekhi Phifer). They try to talk other factions into joining them to overthrow Jeanine. Will they be successful?
The first half of this installment doesn't bode well. The sets, feigning Chicago, look like Legos, the costumes look like hand-me-downs from a high school production of Les Miz and the cast seems bored.
Octavia Spencer plays Johanna, the leader of the peaceful faction Amity, where Tris, Four, her meek brother Caleb (Ansel Elgort) and their duplicitous friend Peter (Miles Teller, Whiplash) have taken refuge. Johanna, as interpreted by Spencer, stares vacantly like a Charles Manson follower. Woodley has two emotions, cry and fight. And watching her fight grown men takes a huge leap of faith, as her arms are the size of pencils. Elgort is so wimpy you want him to join the Marines. James maintains his leading man qualities. And Teller is way too obviously untrustworthy; you wonder why the other three would trust him with their rent money, much less their lives.
As the film progresses, the chase scenes, action sequences and weak subplots — turns out Four has a missing mom (Naomi Watts) that he can't trust — unload like debris falling off a slow moving truck. Brian Duffield, Akiva Goldsman and Mark Bomback's ho-hum screenplay feels like it is leading nowhere. Robert Schwentke's direction makes the fight scenes look over-choreographed and under his guidance the actors are about as animated as robots. For this installment, the writers and director are new. Which begs the question: "Why did the producers pick them?" They are not up to the task.
Fortunately for all concerned, director of photography Florian Ballhaus (The Book Thief) and production designer Alec Hammond (RED) have a deep bag of tricks, which they unleash in the last third of the movie. The visions they conjure are amazing. The decor in the closed glass room where the magic box sits and Divergents are tortured is sleek and artsy. The simulation sequences are mesmerizing to watch: Buildings disintegrate. People too. Tris is haunted by her mom and will do anything to save her; that spirit drives her to be courageous in unique ways. She swings from a rope attached to a burning cinder block room that inflames her mother as it floats in the air above an eerie city skyline. Nice image.
Yes there is the silly adventure stuff and chest-heaving emotional romantic scenes for the teen girl audience. That's the first act. The second act is only slightly better as plans for a revolution are made. The visually pleasing third act saves this movie from oblivion, as it progresses to a surprisingly fulfilling ending.
The Divergent Series still lacks the va-va-voom of The Hunger Games. But eventually, it may find its own cannon.
Visit NNPA Syndication Film Critic Dwight Brown at DwightBrownInk.com.
Source: Huff Post