The First Annual Boogaloo Mountain Jam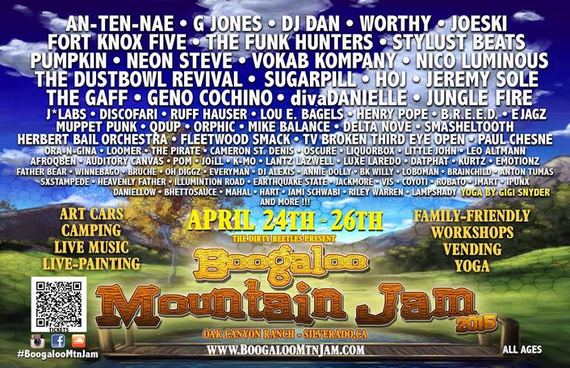 Music festivals are blossoming like a tulip field after an April shower. There is a musical Renaissance happening that the world has not seen in decades. Live music has always been around, but the music festival is an entity incomparable to anything else. It is an organism where the music is the nucleus and attendees are the mitochondria. It is not just an event, but a way of life that extends beyond the dates and venue of the festival itself. When we are not at festivals, we are daydreaming about them and planning for them. Where one festival ends, three more begin, their growth exponential. So without further ado, I announce to you the first annual Boogaloo Mountain Jam on April 24th-26th.
Held at the beautiful Irvine Lake in Silverado, California, this majestic venue was once home to The Do Lab's Lightning in a Bottle. Hosted by legendary Burning Man camp The Dirty Beetles, they are creating a truly one of a kind boutique festival with a stacked lineup. A fixture at music festivals such as Coachella, Lightning in a Bottle, Lucidity and many more, these art cars are getting their chance to be main stages. With three different art cars, Boogaloo, Charlie The Unicorn, and The Jabba Barge, they all offer their own tasty beats in a wide variety of music for the wide variety of humans in attendance. Top of the line sound systems will be blasting our faces with bass, beats and bands.
For the electronically thirsty people at Boogaloo, they can expect to see musicians such as GJones, An-Ten-Nae, The Funk Hunters, Stylust Beats, Neon Steve, Pumpkin, Sugarpill, J*Labs, Lou E. Bagels, Henry Pope and many more. For the souls who need live instruments in their lives, Vokab Kompany, The Dustbowl Revival, Herbert Bail Orchestra, TV Broken 3rd Eye Open and many more will be performing some good ol' fashioned live music.
Of course there will be something for those who seek more from their festival experience than music. Educational and enlightening workshops, yoga, local vendors, live painters, performance artists, and even a kids zone will be offered at the Boogaloo Mountain Jam. All of these elements are what keep this organism alive and thriving. The event revolves around the music, but with so much to see and experience, sometimes it feels as if the festival is revolving around you.
We are the nucleus of a cultural movement. It is the era of the Music Festival and our generation is a part of a technological enlightenment. For some, this technology has made them lazy and self-absorbed, but for those who are destined for greatness, this technology has helped them achieve it. The Boogaloo Mountain Jam is yet another shining testament to the power of the human spirit. To gather purely for the sake of gathering is what makes music festivals the Renaissance of our time. The more we gather, the more enlightened we become and the more enlightened we become, the further our lights can be seen.
Website: http://2015.boogaloomtnjam.com
Facebook: https://www.facebook.com/boogaloomountainjam
Event Page: https://www.facebook.com/events/754665591278604/
Promo video: https://vimeo.com/121442781
Source: Huff Post