The Gift of #ThrowbackThursday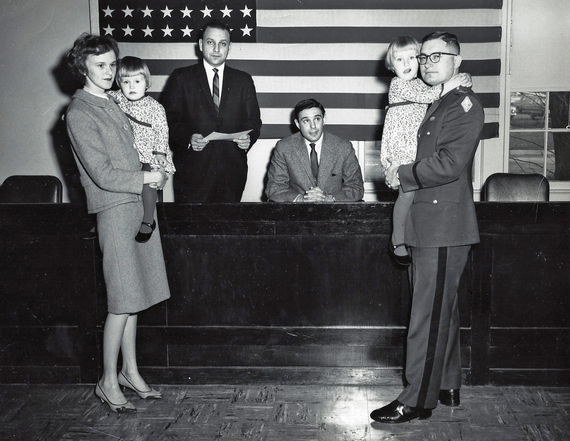 As a genealogist, I'm so focused on the dearly departed that I often neglect the living, but I recently got a serious reminder that those of us above ground matter, too.
Like so many, I occasionally post a photo from the past for #ThrowbackThursday on Twitter, Facebook, or Pinterest. Not long ago, inspired by some videos of naturalization ceremonies shared by The Statue of Liberty-Ellis Island Foundation on Twitter, I blew the dust off a photo of my own naturalization and popped it up for #tbt.
My first surprise came when my sister, Stacy – who was naturalized at the same time and features in the same image – responded to my Facebook post with astonishment. As the family historian, I had known of this black and white picture for years and foolishly assumed that Stacy did, too, but I was wrong. Shame on me for even unintentionally preventing my own sister from seeing our naturalization ceremony. But thanks to #tbt, this faux pas has been remedied.
Better yet, a woman who had known the two of us as babies and toddlers in France posted a few remarks sharing vignettes about our now-deceased mother. The early-20s version of our mom had apparently resolved the mystery of the bidet for the freshly arrived American, but also "helpfully" equipped her with her first French phrase – "Voulez-vous couchez avec moi?" – long before Christina Aguilera or Lady Marmalade were around to enlighten her. Yup, that sounded like Mom.
So one random #tbt post revealed a milestone moment to my sister, triggered a trip down memory lane, and gave us anecdotes we had never heard about our mother. Lesson learned – for me and my fellow genealogists. More photos of the living from now on!
Source: Huff Post