The Health Care Industry: A Prescription to Help Heal Racial Economic Inequality
By Dedrick Muhammad, Sr. Director NAACP Economic Department
Today, many will give a cursory glance at the job numbers unaware of how focusing on just the national unemployment rate of 5.5 percent obscures systemic economic inequities in this nation. Others may even continue to advance the false narrative that we are on track to an economic recovery. But, if we dig a little deeper, we will uncover the less reported story: Latinos and African Americans continue to face significantly higher levels of unemployment at 10.1 and 6.8 percent respectively compared to the national average of 5.5 percent. The African American community continues to have higher unemployment rates than the national rate of unemployment at the height of the Great Recession.
Economic inequality – particularly high unemployment and stagnant wages – remains an untreated disease plaguing communities across the country, particularly our communities of color. At rates that rival the Great Depression, income inequality was coined by President Obama as the defining challenge of our time and by economists and social scientists alike as one of the greatest barriers to building a sustainable 21st century economy.
Our latest report, Opportunity and Diversity Report Card: Healthcare Industry, however, reveals that certain industries, like healthcare, can begin to reverse the tide and inch this country towards building a racially inclusive middle class.
The healthcare industry is a longstanding anchor in many urban centers. Poised to add nearly five million jobs to the economy over the next decade, this industry is uniquely positioned to expand job creation and wealth building opportunities to some of our country's most economically vulnerable communities.
Contrary to other industries, many healthcare jobs are entry level, unskilled and semi-skilled with livable wages. They also offer critical pathways to advancement, like healthcare management positions, and access to other opportunities, which as part of a lucrative job sector, can lead to economic security.
But these jobs and opportunities must be equally available to all.
While the healthcare industry is considerably ahead of its peers in understanding how diversity impacts its bottom line (patient care), our report reveals the industry shares weaknesses comparable to other industries like its lack of diversity in upper management positions and its lack of contracting with minority businesses. For instance, though the less skilled positions in the healthcare field are highly diverse, the middle and upper echelons of management, and the so-called "C-Suite" of corporate governance, remains almost exclusively the domain of white men. Furthermore, many health care corporations do not track their spending dollars or monitor if they are contracting with diverse companies.
Highlighting opportunities in the healthcare industry, where we can strengthen people of color's full participation can be transformative in making inroads to establishing economic parity. The NAACP will continue to ensure that members of our communities are connected to these opportunities by working with the leading healthcare systems to strengthen their diversity inclusion efforts, including cultivating pipeline programs and increasing engagement with minority owned business.
Equal opportunity for people of color in the United States continues to remain an unrealized goal. But as our nation becomes more racially and ethnically diverse, racial and economic inequality can no longer afford to be left untreated. It is essential that industries, particularly major job engines in the 21st century, strongly concentrate on ensuring their business models advance greater racial equity. The healthcare industry can be just the prescription to move our country in this very direction.
Download the full report here:
http://www.naacp.org/pages/opportunity-diversity-report-card-healthcare-industry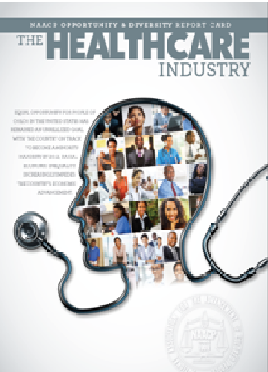 Source: Huff Post