The Latino Victory Project isn't pushing for a Latino victory in the Chicago mayoral race.
The nonpartisan political action committee formed to help Latinos win election to local, state and federal offices told The Huffington Post that it hasn't gotten involved in the Chicago race, where Jesus "Chuy" Garcia is running a campaign against incumbent Rahm Emanuel. Some in the national media have described the contest as one that's pitting the Democratic Party's grassroots base against its establishment.
In a statement emailed to HuffPost, Latino Victory Project President Cristóbal Alex said the organization is "excited by the enthusiasm that the Latino community has harnessed to push Chuy Garcia's candidacy forward," but stopped short of saying the group would get involved in the race.
"As we expand our candidate recruitment, endorsement and engagement programs this year, we will be working to help community leaders across the country build a platform for advancing the issues the Latino community cares about most," the statement reads. "We are closely tracking the Chicago mayoral race ahead of the runoff on April 7."
As of Friday, however, Latino Victory Project's website had not mentioned Garcia's candidacy.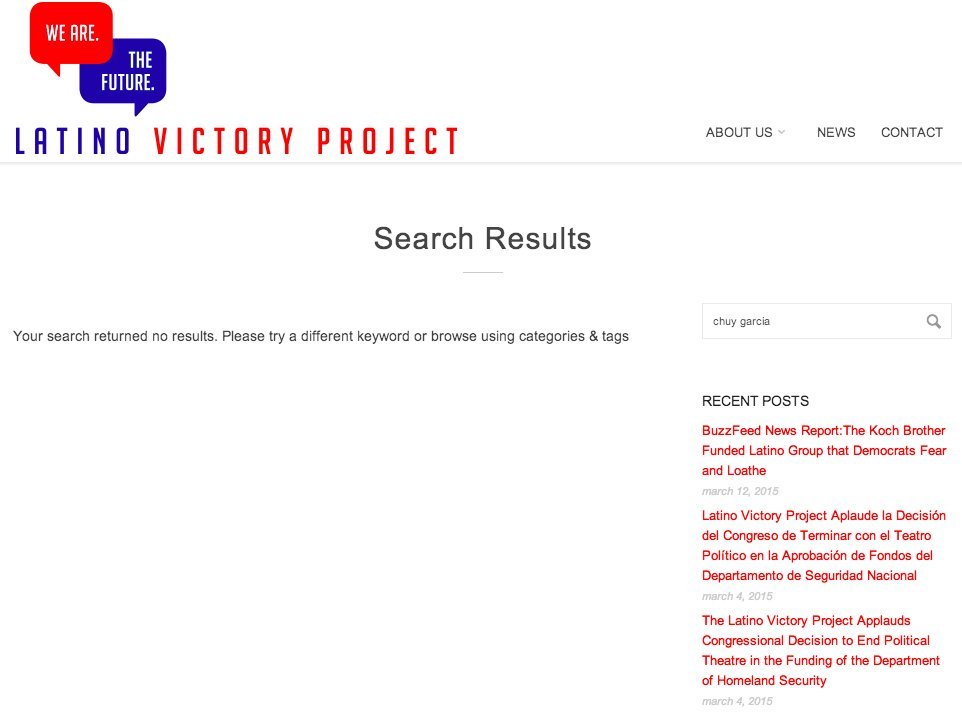 A screenshot of a search for the term "Chuy Garcia" on Latino Victory Project's website taken Friday.
While the PAC hasn't thrown its weight behind Garcia, a source close to the Latino Victory Project told The Huffington Post that the board plans to reassess its process for picking candidates at a meeting later this month.
"The board is looking at the mission structure and the endorsement process and how to get involved in local, state and federal races in years to come," the source told HuffPost. "And this Chicago race is no exception."
Founded by prominent activists Eva Longoria and Henry Muñoz III last year, the Latino Victory Fund is modeled on EMILY's List and the Gay and Lesbian Victory Fund — issue-specific political organizations that have helped propel candidates across the country into elected office. EMILY's List backs pro-choice candidates, while the Gay and Lesbian Victory Fund helps elect openly LGBT individuals.
The Latino Victory Project raised almost $5 million to back Latino candidates last year, according to KPCC.
Garcia has attracted national media attention after unexpectedly pushing incumbent Emanuel into a runoff election.
Rep. Raúl Grijalva (D-Ariz.) is urging other members of the Congressional Hispanic Caucus to back Garcia, both because of the candidate's progressive stance and out of lingering resentment for Emanuel's recalcitrance on the immigration issue back when he served the presidential administrations of Bill Clinton and Barack Obama.
But Rep. Luis Gutierrez (D-Ill.) is throwing his support behind Emanuel, citing the pro-immigrant measures he's helped pass since taking office as mayor of Chicago in 2012.
Source: Huff Post