The Secret Ingredient Your Eggs Have Been Missing
By Matt Duckor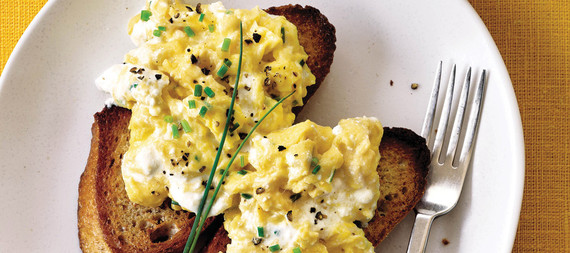 I tend to not order eggs in restaurants. I'm not one of those food people who despise brunch. In fact, I love it. Can't think of a better way to start Sunday morning. But eggs aren't usually on the order–I like making them myself at home and really dislike being disappointed by bad ones. So the chances of me ordering scrambled eggs at dinner basically amounts to a statistical anomaly. But there it was on the menu the other night at Casa Mono, an excellent, highly-regarded NYC tapas spot run by chef Anthony Sasso and owned by some up-and-coming-chef named Mario Batali. The menu described the eggs as "creamy" and topped with sea urchin. Against all odds, I ordered them.
The dish hit the table and, within five seconds, I realized these eggs were different. Sure, Sasso tops them with briny slivers of sea urchin that practically meld with the soft eggs into one luxuriously smooth texture. And yeah, a few glugs of high-quality olive oil along with a dash of anchovy oil (think of it as Italy's answer to fish sauce) add equal parts fat and funk. Amidst all that, though, the dish hit a bright, high note that I couldn't immediately identify. It was acid. Specifically, fresh lime juice and zest.
Fat, funk, and acid all playing together nicely like kids from different backgrounds on the schoolyard. Why didn't I think of that?
"Honestly, this dish started out as something I happened to make at home," recalls Sasso. The chef had a lime in his fridge while making some late-night eggs and figured he'd give the combination a try. "Everyone salts their eggs–no one finishes with lemon or lime juice or vinegar," says Sasso. He points out that people top poached eggs with a ton of acid, in the form of rich, lemony hollandaise sauce. But lemon juice tends to fly under-the-radar on the palate: "Everything that leaves our kitchen gets hit with fresh lemon juice." Sasso stuck with lime juice when it came time to translate his at-home experiment to a dish for the restaurant's menu, because when something has lime in it, you know it.
Intrigued? Good news: Adding acid to your eggs is easy. Start with soft-scrambled eggs. Then, building the dish in a bowl, top the eggs with a healthy pour of olive oil. Don't have access to anchovy oil like they use at Casa Mono? Add a tablespoon of fish sauce for a comparable kick. If you're able to get your hands on a tray of fresh uni, do that. If not, a wide variety of seafood will pair well here–consider smoked options like gravlax or salmon, a few pieces of cooked shrimp, or if you're feeling extravagant, a lobster tail.
All that's left is a quick squeeze of lime juice and a zesting with a Microplane. (Of course, simple scrambled eggs will benefit from the acid treatment without tricking them out Casa Momo-style, as well.) And, just like that, breakfast for dinner became a whole lot more awesome.
More from Epicurious:
20 Must-Try Ways to Pair Items You Already Have In Your Pantry
This Recipe Has 908 Comments, and They're All Hilarious
The 57 Best Cooking Tips of All Time
12 Lightning-Fast Chicken Dinners to Make Now
Chocolate Overload: 10 Must-Try Recipes for True Chocoholics
These Addictive, Amazing 22-Minute Meals Will Change Weeknight Dinner
Source: Huff Post