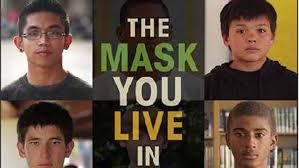 This week I had the great privilege of attending a screening of Jennifer Siebel Newsom's latest film, The Mask You Live In, which embarks on a powerful exploration of the truth and consequences associated with modern masculinity in America. If you are unaware of this remarkable filmmaker, make note, as she is on course to becoming one of the great filmmakers of our time. This film is the second in a trilogy series that Siebel Newsom and her team have embarked upon. Her first film the groundbreaking Missrepresentation, widely acclaimed at Sundance, sparked a global education and empowerment conversation on the impact of pervasive media stereotypes and distorted messaging that negatively impacts the development of girls and young women. Both films are harrowing documentaries that artfully intertwine expert commentary layered with thoughtful images and deeply personal narratives, in what is becoming Siebel Newsom's signature style.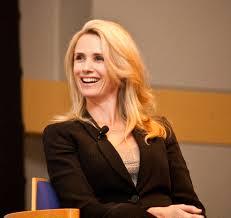 In peeling back the layers of what brings us to the current state of masculinity in America, Mask begins with the pain so many young boys and men experience and carry in isolation starting very early on in life. Legendary coach and author Joe Ehrmann's story and unmistakable voice fill the opening scenes with an all too familiar narrative of his five year old self being told by his father, "Don't cry, be a man." One of the most damaging phrases in our culture and yet an all too common socialization tool that is inflicted upon generation after generation of young men. The story then details Joe's journey and numerous others from every race and ethnic background dealing with similar boyhood experiences of shame, fear, isolation and shunted emotions.
"He wears a mask, and his face grows to fit it." —
George Orwell
The systemic internalization and blocking off of all emotion as the film warns inevitably leads to pent up frustration, anger and oftentimes violence against oneself and others. The stats Mask weaves in throughout are shocking and detail the dramatic rise in the just the past few years in bullying, rape, murder, and in particular mass murder by young men should be warning enough that we as a society aren't doing enough. As a society we are failing our boys and young men.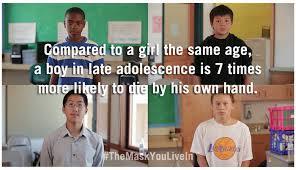 And though there are so many elements of this film that haunt you, there is much hope weaved throughout that Siebel Newsom deftly uncovers and brings home by showcasing the amazing efforts of extraordinary teachers and mentors who work with the kids everyone has given up on. They are some of the most remarkable human beings I have ever witnessed captured on film. They are providing safe spaces, camaraderie and the tools to help adolescent men not only share their emotions but a safe space to connect with one another, a brotherhood of sorts that will shape them in a positive way for the rest of their lives. When I look at the amount of money we in America spend on our prisons compared to programs like this I wonder where the hell are our priorities? We should be embracing, elevating and compensating extraordinary local leaders like these teaches and mentors Siebel Newsom highlights so they not only never stop what they are doing but so that their efforts can be replicated and scaled in every city across America. We need an army of these teachers, mentors and coaches engaged in a massive collective effort if we are ever to right this ship.
Where We Take The Conversation From Here
When I asked men who attended the screening what their main takeaways were and if anything surprised them, they universally said that while they weren't surprised by what they saw the real revelation was in the new awareness they now have that this is something that needs to be surfaced and talked about. Men don't talk about these issues and as a society we've looked the other way. That has to stop. This film is the perfect way to initiate the conversation in your home, community, and workplace.
The Mask You Live In is the first comprehensive film study on the state of masculinity in America. It is a film every young man and grown man, everywhere, must see. Especially if they are fathers, coaches, teaches, and mentors. This film, like Missrepresentaion, makes you think for days and weeks thereafter. They are stark warnings that compel the audience to look inward, have a conversation and then be part of the solution in whatever way you can. You are compelled to action. And when I say compel, I mean anyone who watches either of these films cannot walk away unchanged. And for that I am personally grateful and hope Seibel Newsome and the The Representation Project never stop what they are doing.
What You Can Do Now
 Join & Support the Movement — Learn more at TheRepresentationProject.org; Sign up to receive updates, insights and new learnings.
 Host a Screening — in your home, community, and/or workplace and start the conversation
 Read and Buy Extra Copies of Joe Ehrmann's brilliant book, Inside Out Coaching, and give one to every young man, father, coach, and teacher that matters in your life.
Source: Huff Post