I'm sitting on a very comfortable mattress in the Westin St. Francis, on Union Square in San Francisco. SF is one of my favorite towns. Maybe my most favorite town in the US of A. I'm tagging along with Sue Ann, while she attends a business conference here. I love staying in nice hotels on the man's dime. I love doing most anything on the man's dime. Except working, of course.
I just finished watching a slow motion video of a captivating drag queen named Suppositori Spelling. Her name play on Tori Spelling was just one of the things I loved about her. Last night we went to an event called Lilith Bear on Folsom street. Suppositori was part of the post band show dedicated to '90s female singer-songwriters. She dramatically mimed to an Alanis Morisette song. Here's my take away: Lesbians and gays are not a glum lot! They are fun and cheeky and beautiful (sometimes). They are clearly enjoying their lives or at least the parts they can actually control. I often catch myself being stereotypically dreary. Perhaps the solution is drag lessons? It would surely spice up my performances and certainly improve my wardrobe.
In a tribute to '90s fashion, Suppositori was wearing a clever denim and flannel gown handcrafted for the show. It took her 12 hours to construct. Now that's commitment. That's innovation. There were so many smilemakers last night — enough to make Joan Osborne proud.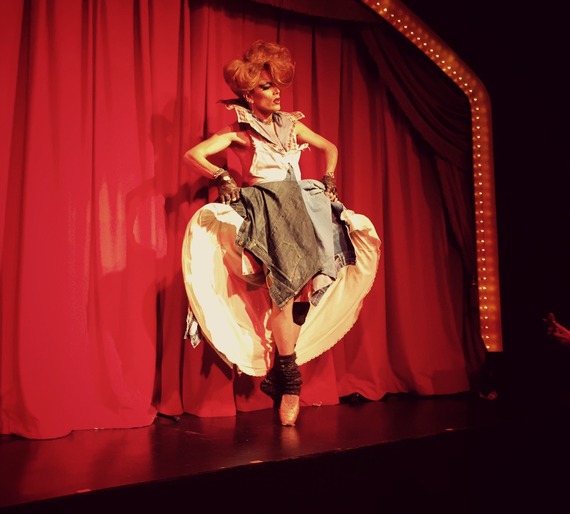 Follow Cynthia Catania on Facebook & Twitter & Instagram.
Source: Huff Post