DUBLIN (AP) — Landmark buildings across Ireland and the world have been floodlit green for St. Patrick's Day as global celebrations of the Emerald Isle's patron saint are culminating in parades and celebrations in Dublin, New York and scores of other cities Tuesday.
Here are St. Patrick's Day events happening worldwide:
IRELAND
President Michael Higgins attended Mass at St. Mary's Pro-Cathedral in Dublin, where Catholic Archbishop Diarmuid Martin blessed sprigs of shamrock in the traditional start to Ireland's national holiday.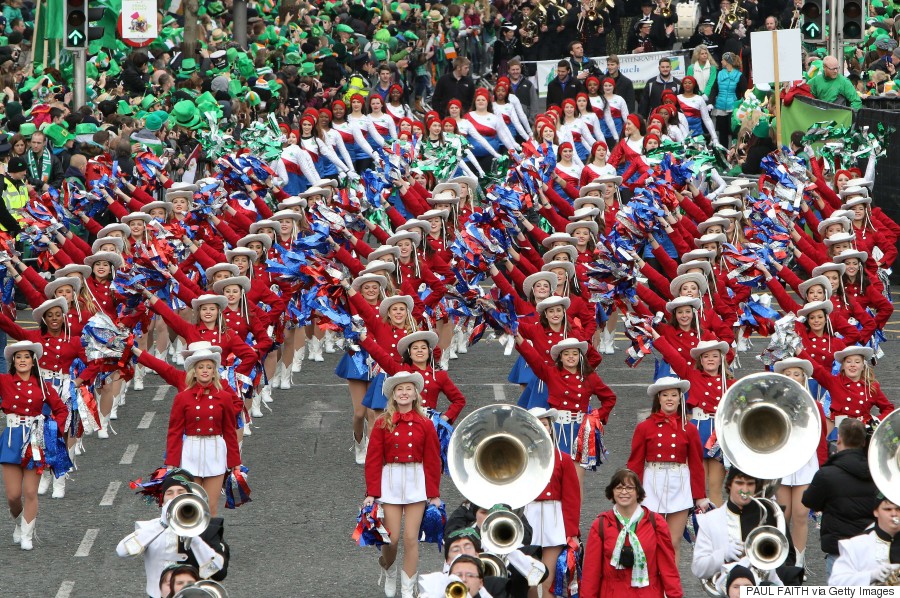 Band members march during the St Patrick's Day parade in Dublin on March 17, 2015. (PAUL FAITH/AFP/Getty Images)
Hundreds of thousands of Dubliners and tourists lined the nearby route of the Dublin parade, the culmination of a four-day festival featuring music and dance performances, pub crawls, cultural tours and street arcades. Face-painted dancers, eccentrically themed floats and U.S. marching bands snaked their way down O'Connell Street across the River Liffey to St. Patrick's Cathedral a mile (2 kilometers) away.
A man dressed as St. Patrick — but donning sunglasses and dispensing smart-aleck comments to the crowd, along with playful thumps from his club-like crozier — led the way.
Later Tuesday, Irish Prime Minister Enda Kenny is guest of honor at the White House following weekend visits to Georgia and Texas. Almost his entire Cabinet has spent the past week traveling worldwide promoting Ireland's tourism, culture and strong rebound from a crippling 2008 banking crisis.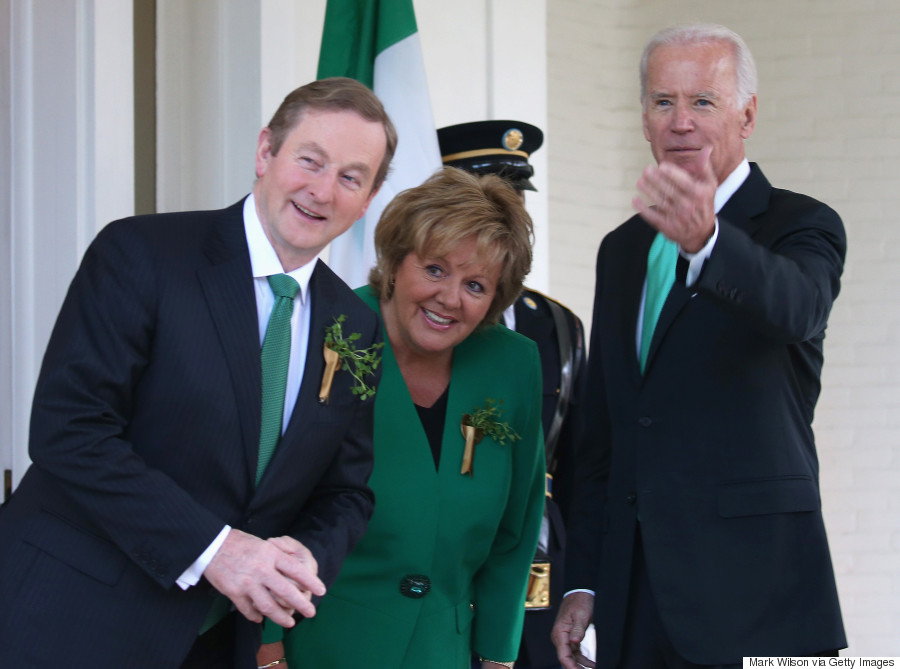 Vice President Joseph Biden (R) welcomes Prime Minister Enda Kenny of Ireland and his wife Fionnuala Kenny to the Naval Observatory on March 17, 2015 in Washington, DC. (Mark Wilson/Getty Images)
BRITAIN
At a barracks in Aldershot, England, Prince William and his pregnant wife, Kate, presented shamrocks to soldiers from the Irish Guards, one of the two Irish-recruited regiments in the British Army.
Kate, 33, handed out baskets of shamrocks and pinned a sprig on the collar of the regiment's mascot, an Irish wolfhound called Domhnall. The 3-year-old dog was treated to a sip of Guinness at the ceremony's end.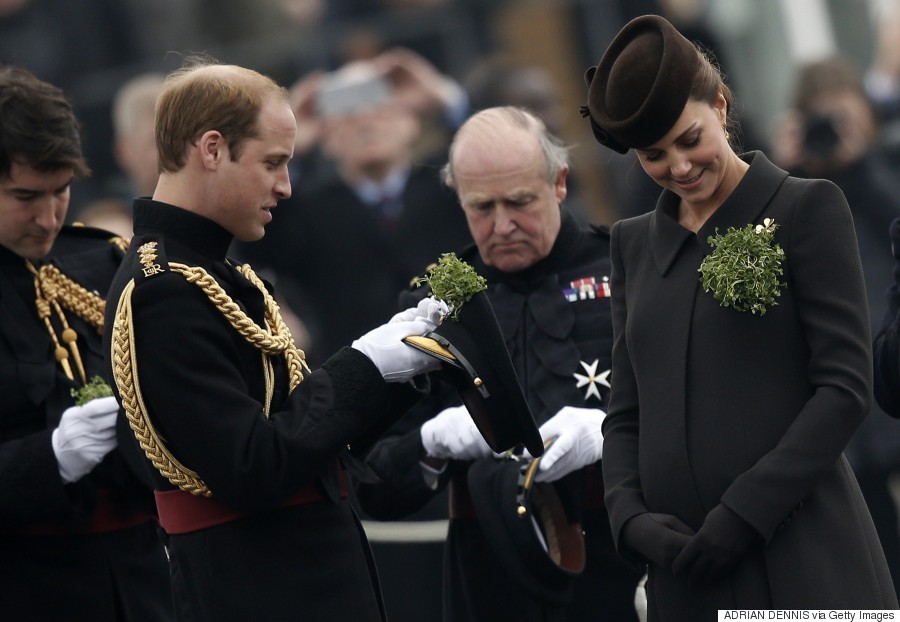 Britain's Duchess of Cambridge (R) looks at her shamrock as Prince William attaches a shamrock to his hat while visiting the Irish Guards during a St Patrick's Day parade in Mons Barracks in Aldershot, on March 17, 2015. (ADRIAN DENNIS/AFP/Getty Images)
UNITED STATES
Home to more than 40 million citizens with Irish blood, St. Patrick's Day is arguably a bigger event in some American cities than even in Ireland. But because this year's holiday falls on a Tuesday, most U.S. towns and cities held their festivities early on the weekend.
Not so for the flagship parade down Fifth Avenue in New York, nor diplomatic events in Washington, where President Barack Obama and the Republican-led Congress take turns toasting their Irish guests at separate events.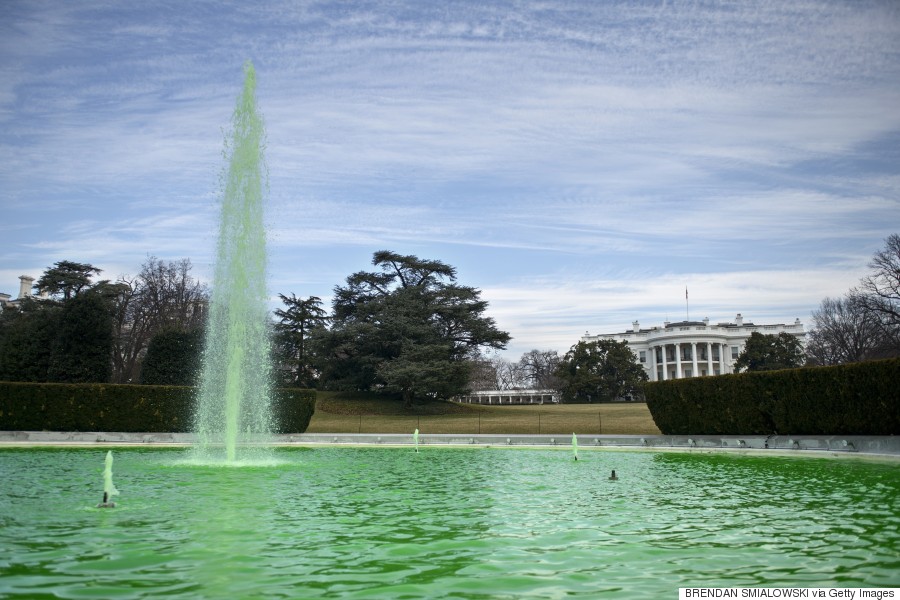 The South Lawn fountain at the White House in Washington, DC is dyed green in celebration of St. Patrick's Day. (BRENDAN SMIALOWSKI/AFP/Getty Images)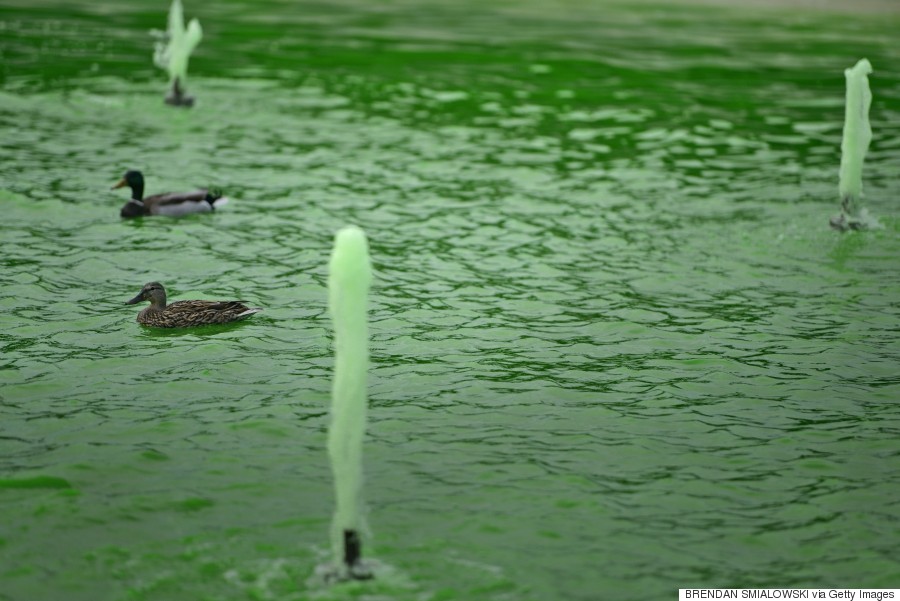 Ducks swim in the South Lawn fountain at the White House in Washington, DC, dyed green in celebration of St. Patrick's Day. (BRENDAN SMIALOWSKI/AFP/Getty Images)
Troublesome politics overshadow both events. In New York, a long-running argument over whether gay groups can openly parade means that for the second year in a row, Mayor Bill de Blasio won't march. This year's grand marshal is Catholic Cardinal Timothy Dalton, who supports the inclusion of one group representing gay employees of the broadcaster NBC, a major parade sponsor.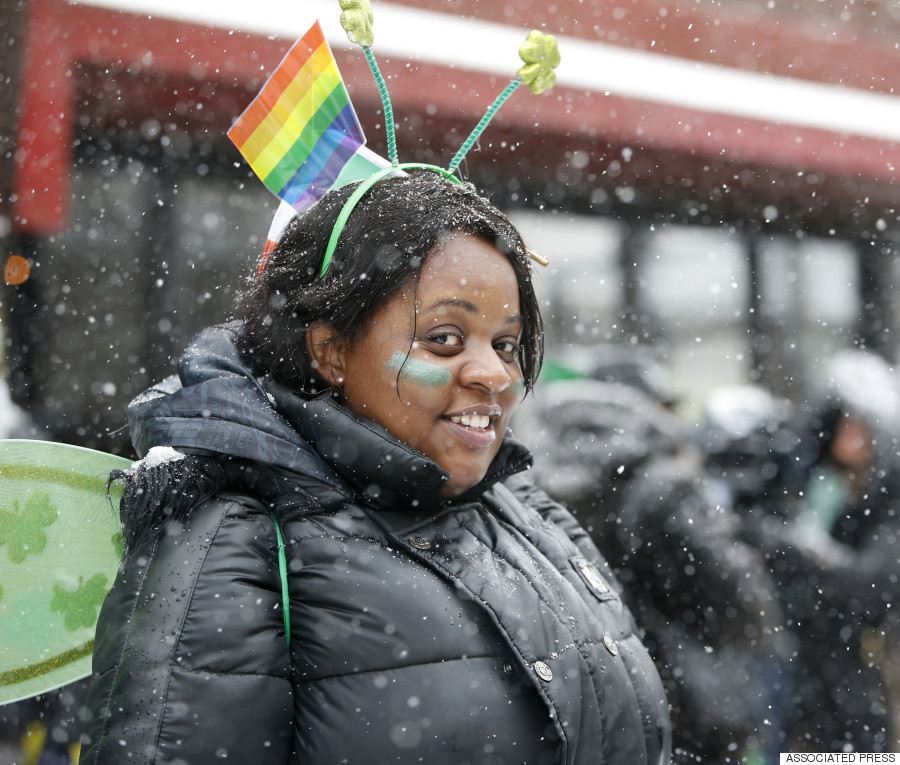 Shenetta Inmon sports a gay pride flag alongside her shamrock headwear as she waits for marchers to pass during the all-inclusive St. Pat's For All parade in the Sunnyside, Queens neighborhood of New York, March 1, 2015. (AP Photo/Kathy Willens)
And in Washington, for the first time, the leaders of Northern Ireland's power-sharing government aren't coming. Obama encouraged them to stay in Belfast, where rival British Protestant and Irish Catholic leaders are negotiating to keep their 8-year-old coalition from unraveling over a bitter budget dispute.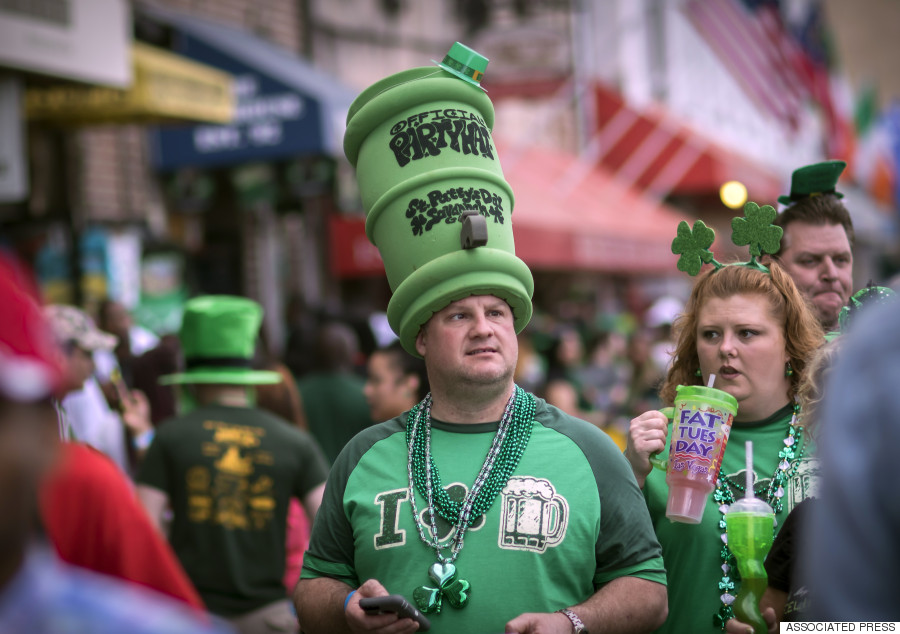 Dressed in a large foam beer keg hat, Glenn Mikos walks with his friends and family during the start of a four-day St. Patrick's Day celebration in Savannah, Ga on March 14, 2015. (AP Photo/Stephen B. Morton)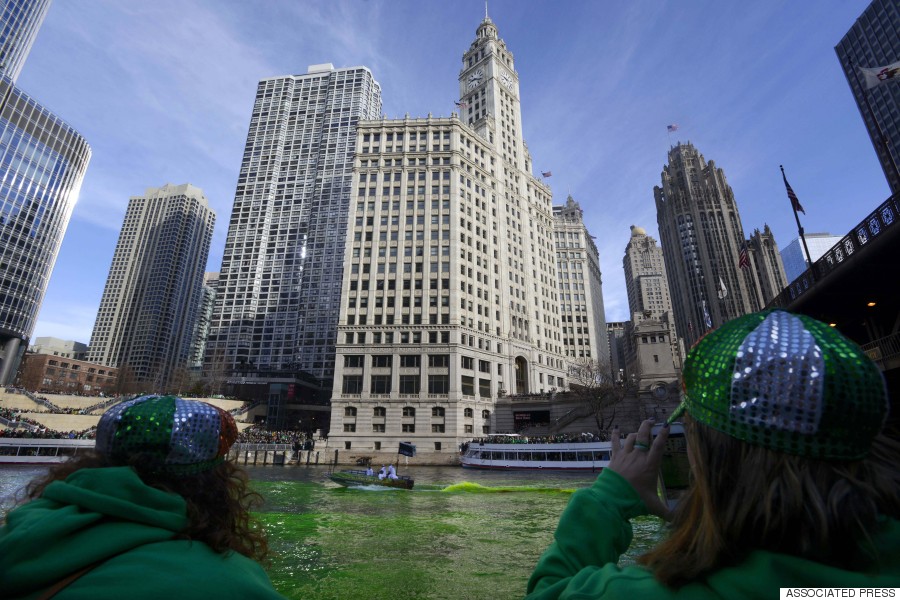 The Chicago River is dyed green ahead of the St. Patrick's Day parade in Chicago, March 14, 2015. (AP Photo/Paul Beaty)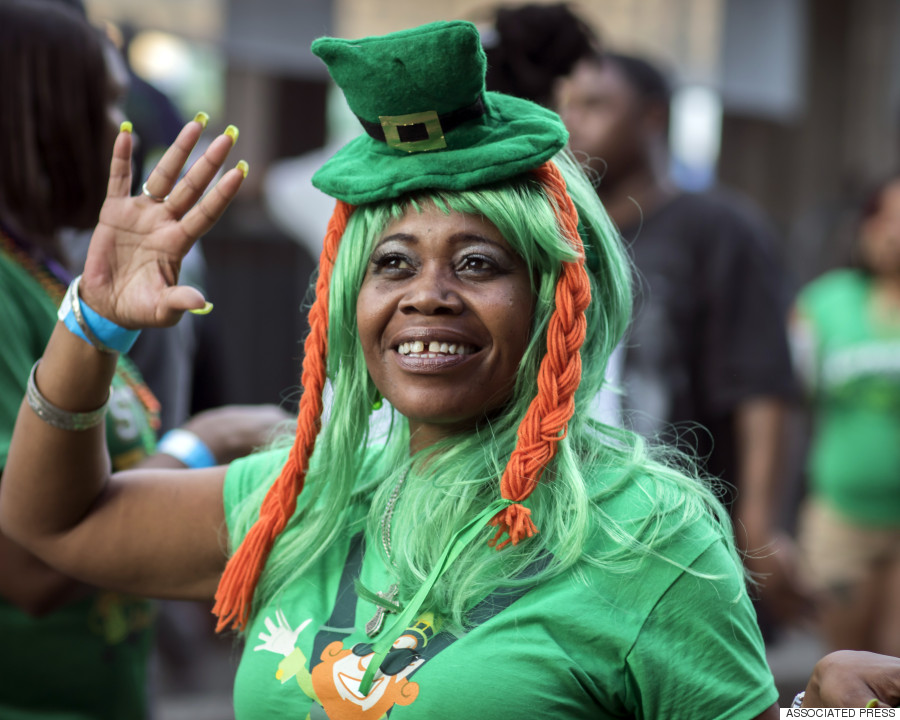 Dressed as a leprechaun, Jackie Robinson waves to friends at the St. Patrick's Day celebration in Savannah, Ga on March 14, 2015. (AP Photo/Stephen B. Morton)
FRANCE
In Paris, the iconic Sacre Coeur basilica atop Montmartre is being lit up green for the occasion. Irish pubs will be full across the city, from the Green Goose near Place de la Nation to Carr's by the Louvre.
On the Champs Elysees, the Publicis Drugstore is hosting an Irish meal and whisky tasting. In the Latin Quarter, the 18th-century College des Irlandais is hosting a concert by traditional Irish band Kila.
#StPatricksDay concours photo -envoyez nous une selfie avec le #SacréCoeurVert prix vol A/R France-Irlande pic.twitter.com/xhhE4b9aV6

— IrelandEmbassyParis (@IrlEmbParis) March 15, 2015
UNITED ARAB EMIRATES
In Abu Dhabi, the Etihad Towers and luxury Burj Al Arab hotel — famous for its sail-like shape pointing into the Persian Gulf — have both turned green for the holiday. The Irish ambassador to the United Arab Emirates, Patrick Hennessy, was on hand as the floodlights beamed on to the towers.
As was the case in more than 160 locations globally, the green lighting was organized by the Irish government-funded Tourism Ireland agency.
AROUND THE WORLD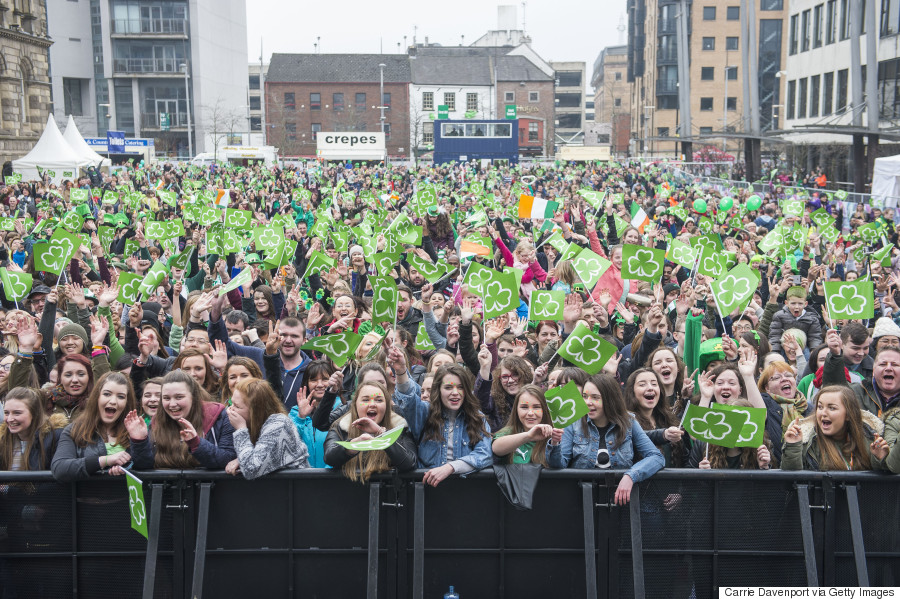 People attend the annual St Patrick's Day parade on March 17, 2015 in Belfast, Northern Ireland. (Carrie Davenport/Getty Images)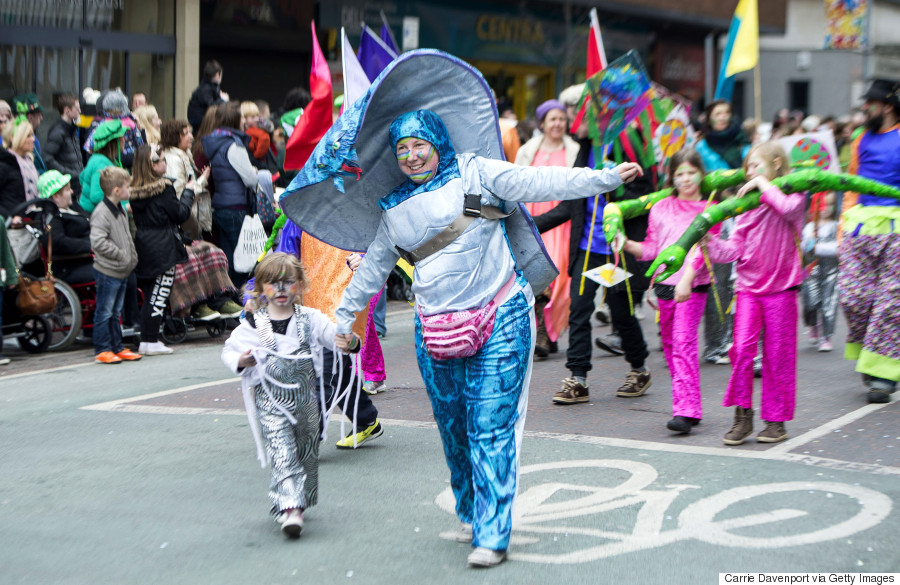 People attend the annual St Patrick's Day parade on March 17, 2015 in Belfast, Northern Ireland. (Carrie Davenport/Getty Images)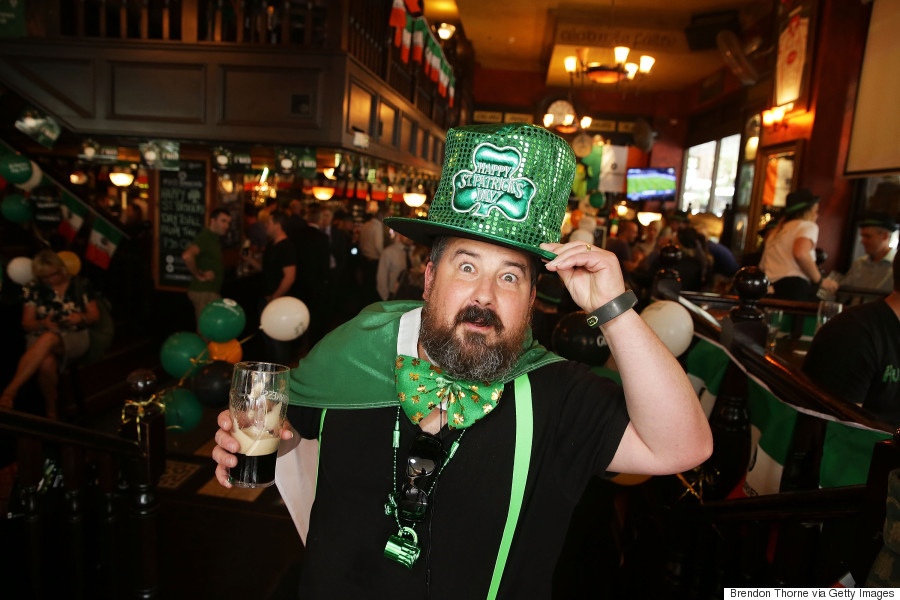 A patron celebrates St Patrick's Day at P.J. O'Brien's Irish pub on March 17, 2015 in Sydney, Australia. (Brendon Thorne/Getty Images)
Associated Press writers Sylvia Hui in London, Greg Keller in Paris, and Aya Batrawy in Dubai, United Arab Emirates, contributed to this report.
Source: Huff Post