Tuna Industry Failing on Sustainability
The United States consumes more canned tuna than any other country in the world, and ranks in the top three seafood species eaten here. As a cheap source of protein, families all over the country have relied on canned tuna for decades. Unfortunately, most people don't realize the damage many of America's "trusted tuna brands" are doing to our oceans. Some are even failing to ensure ethical issues that plague the industry are addressed, like human rights abuses at sea.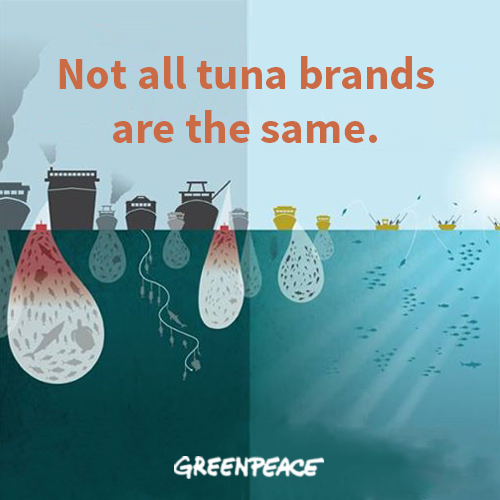 As the seafood industry gathers in Boston this week for its annual expo, the leaders and laggards of the U.S. canned tuna market have become more apparent than ever. On March 9th, Greenpeace released its first-ever canned tuna ranking in the U.S., which examined 14 well-known brands and concluded that most do not have adequate measures in place to address the sustainability or human welfare and labor issues plaguing the industry.
Our ranking disturbingly found that the big three U.S. brands — Bumble Bee, Chicken of the Sea and StarKist — don't offer a single easily identified sustainable product under their flagship brands, ensuring a failing score and "do not buy" label for all of them. These three brands make up a combined 80 percent of the U.S. market, but rather than leading the way, they are at the heart of the problem with American canned tuna and should be avoided at all cost. Walmart and Kroger also finished near the bottom of the ranking, as neither offers sustainable tuna under their private label brands.
The Monterey Bay Aquarium Seafood Watch Program has just released its updated recommendations for many tuna fisheries across the world. Seafood Watch is an independent, science-based effort and recommends people look for tuna that is caught using methods with lower instances of bycatch such as FAD-free or pole-and-line. As noted in Greenpeace's tuna ranking, Bumble Bee, StarKist and Chicken of the Sea do not sell any canned tuna under their flagship brands that was caught using only these methods; instead they sell tuna that destroys our ocean and its wildlife.
Thankfully, there are brands in the U.S. that are stepping up to ensure their tuna customers have sustainable and ethical options to buy. Wild Planet, American Tuna and Ocean Naturals received the top scores and were identified as reliable brands for consumers. Each brand has a comprehensive approach to sustainability and sources from operations that are fair and socially responsible. Whole Foods finished near the top tier for selling more responsibly caught tuna. Hy-Vee and Trader Joe's also ranked near the top for offering more ocean safe options, but continue to have sustainability concerns with other products.
The problems with the tuna industry run deep. Destructive fishing methods, like longlining and purse seining with fish aggregating devices (FADs), have significant bycatch problems — meaning that despite a potential "dolphin safe" label, they are killing millions of turtles, rays, sharks, juvenile tuna and other marine life. These fishing methods are damaging to entire ecosystems. There's nothing safe about that for the ocean and its wildlife. Bumble Bee, Chicken of the Sea and StarKist all source their tuna from fisheries dependent upon this sort of ocean destruction.
There are more sustainable tuna fishing methods available, such as pole and line, handline and trolling, all of which catch tuna individually and minimize the impacts on other species. Purse seines fishing on free schools and longlines that use mitigation techniques to reduce the catch of other species can also lessen the impact on ocean ecosystems. Wild Planet, American Tuna and Ocean Naturals scored well in the ranking because they have embraced these methods, and truly work to protect vulnerable ocean wildlife.
The tuna industry is also implicated in widespread human welfare and labor issues. Illegal, unreported and unregulated (IUU) tuna fishing is often connected to human rights abuses like trafficking and forced labor. Longline vessels can stay at sea for over a year at a time, keeping their crew in a captive environment. Many of the brands at the bottom of our ranking do not have adequate checks and balances to ensure these issues aren't part of their tuna sourcing. Shockingly, some don't even let consumers know where their tuna comes from. Additional transparency is needed to ensure we aren't buying tuna from destructive and unethical sources.
The three tuna giants have a responsibility to join forward-thinking brands in building a more sustainable and equitable industry. With such widespread market dominance, they can transform things for the better. American consumers are demanding ethical and sustainable food — soon the big three will realize that selling products that are bad for our oceans is also bad for business.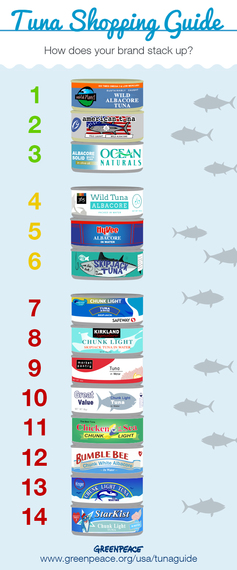 Source: Huff Post