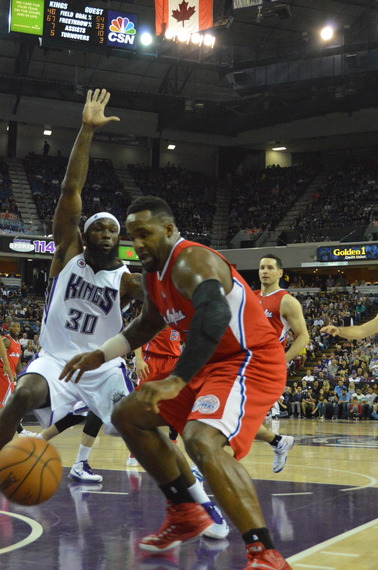 Photo by Tony Harvey
Sacramento, CA – While the Los Angeles Clippers have closed the gap on the fifth playoff spot after the Dallas Mavericks loss last night. The Kings are still trying to figure out how to win under new head coach George Karl.
Former Sacramento player Hedo Turkoglu was the surprise threat no one saw coming. He made five three-pointers helping the Clippers beat the Kings 116-105. Turkoglu finished with a season-high 19 points in his second start this season. He started in place of injured Matt Barnes who did not travel with the team.
"Turk was amazing," Clippers head coach Doc Rivers said. "It was a throwback game for him. We've eased him through the season, but we're playing him more now. He's finding his rhythm."
"Tonight, he [Turkoglu] looked like the defender that was before," said Sacramento's head coach George Karl. "When he was in his prime, his defense was pretty first-class. I thought that he did a good job on Rudy (Gay) tonight. And every open shot that Turkoglu got, he knew he was going to make."
The Kings lost their fourth straight game. Without leading scorer DeMarcus Cousins (due to a right calf strain), LA made eight 3-pointers in the fourth. Turkoglu wasn't the only hot hand, Chris Paul added 30 points and 11 assists while JJ Redick finished with 27 points.
Redick had four 3's and 17 points in the first half. Combined the Clippers made 17 of 37 3-point attempts. Rudy Gay scored 23 points and Andre Miller added 16 points. The reserves did a good job keeping pace with LA and tied the game late in the fourth before Turkoglu hit back-to-back jumpers extending their lead. Gay was covered well by Turkoglu and only shot 6-of-19 missing all five 3-point attempts.
After Sacramento tied the game 84-84, LA went on a 17-6 run. Not something you see to often when both point guards are off to a good night of shooting. The Kings defense broke down in the fourth. After being down 80-73 in the third, they rallied back but again was overshadowed by the Clippers outside shooting.
"There's no doubt when you lose by 42 points at the three-point line well its tough to make those up," Karl said.
"It's one of those things where you just have to be in a mindset the whole game," Gay said. "Obviously, Chris Paul is Chris Paul, but JJ Redick came out here and really hurt us and that's something we have to be ready for. Guys like that can get hot and we can't be the team they get hot on."
Source: Huff Post