Types of alpine skis range from "all-mountain" models to specialized varieties designed for very specific conditions.
Skis' basic features differentiate the various types:
Camber is the slight upward rise in the middle of an unweighted ski when viewed from the side.
The opposite of camber is a relatively new design element known as rocker, an upward curve reminiscent of a rocking chair.
Ski width is measured at the ski's middle, known as the waist.
Sidecut is the slight hourglass shape of a ski when viewed from above. More sidecut translates into a shorter turn radius that makes tight turns easier. (For a full explanation, check out this post on sidecut and turn radius.)
Flex means the stiffness of a ski.
The reality is that the skier is more important than the skis. An expert on the "wrong" kind of skis for the conditions will still look more graceful down a slope than a novice on the "correct" set-up. The right tool for the job, however, certainly helps. Here's a quick look at the different types of alpine skis:
1. All-mountain skis



PHOTO: Rossignol Experience 88
Skiers who don't want to invest in a quiver of different specialized skis generally opt for an "all-mountain" ski. Most skis on ski-shop racks fall into this category. All-mountain skis are not exceptional in any single situation, but they are versatile enough to handle almost any terrain and snow.
With widths generally in the 75-95mm range, many all-mountain skis have traditional camber combined with a touch of rocker in the tip and tail. The camber allows for good control on groomed slopes, while the rocker helps turn initiation and float in powder. The medium sidecut on all-mountain skis produces a turn radius in the 16-20 meter range.
2. Powder skis


PHOTO: Fischer Big Stix 122
Width is the defining characteristic of powder skis, sometimes called "fat skis" for obvious reasons. Many of today's powder-specific skis measure up around 120mm.
Powder skis have lots of rocker, even up to "full rocker" skis, which are inspired by water skis and do not have any traditional camber. Powder skis also tend to have a rather soft flex. All these features are designed to provide plenty of float in deep powder.
3. Park and pipe skis
Allowing for backwards landings in terrain parks, twin-tips are the hallmark of park and pipe skis. Also called "freestyle skis," most of these models are rather narrow and have traditional camber.
4. Carving skis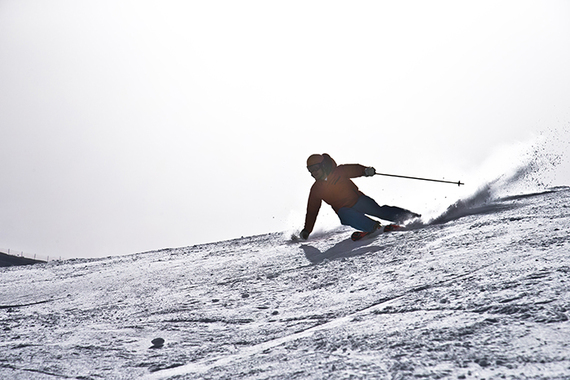 PHOTO: K2 AMP Bolt
Carving skis are racing skis for mortals. While true World Cup racing skis would feel much too stiff for recreational skiers, carving skis are designed for those who favor going fast on groomed slopes. These still rather stiff skis have a narrow width (usually under 75mm), short turn radius, and full camber.
5. Alpine touring (AT) skis



PHOTO: Elan Himalaya
Growing with the increasing popularity of backcountry skiing, the alpine touring category includes features such as notches that are used to attach climbing skins. Along with such details, AT skis are generally lighter than their all-mountain cousins designed for resort use.
By Eric Wagnon / @SkiingExaminer
Source: Huff Post