The current war in Ukraine and the Balkan wars of the 90s could have been avoided if principled leaders in the West had focused on building the vital foundation of the rule of law and independent judiciaries at the time of the fall of the Berlin Wall. The lives of hundreds of millions of people in Eastern Europe could have been more prosperous and their future more certain. Instead, millions of Europeans live under oppression.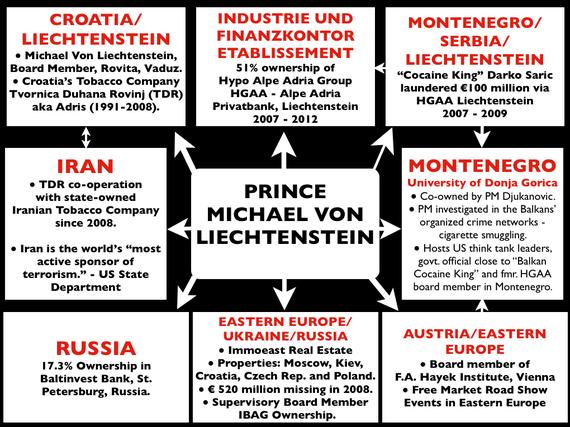 The coexistence of rampant political corruption and organized crime in post-communist Eastern Europe combined with money laundering which is facilitated by banking and corporate entities of rogue states such as Liechtenstein and Austria – have been major factors in regional conflicts and economic instability. Sanctions against Iran, "most active state-sponsor of terrorism", have been regularly obstructed by the same Western actors. Criminal enterprises and transnational organized crime fuel terrorism financing. Reports indicate that Balkan heroin trafficking brings in more than $20 billion annually, providing financing for Al Qaeda and Hezbollah. Kalashnikovs from the Balkans were used in the January 2015 Paris attacks killing 17 people.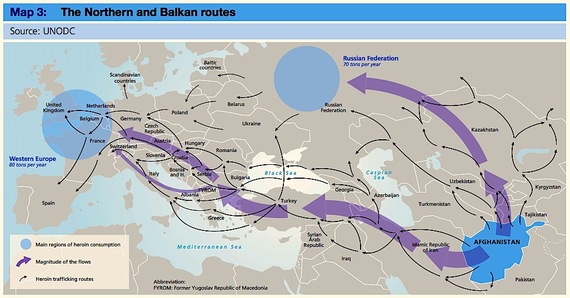 US jurisdiction is indispensable to investigate the obstruction of justice on the European continent and clarify the role of another member of Liechtenstein's royal family – Prince Michael von Liechtenstein:
1. Money laundering for organized crime – Balkans, Croatia and Iran.
2. Money laundering for corrupt politicians – Hypo Alpe Adria Bank.
3. Money laundering for cocaine ring and Montenegro's criminal networks.
4. Immoeast real estate scandal in Eastern Europe.
5. Baltinvestbank in St. Petersburg, Russia.
6. Cross-directorships and funding of US and Europe's think tanks – concerns highlighted in an earlier piece titled, "FATCA – Are Transnational Criminal Networks Influencing US Policy?"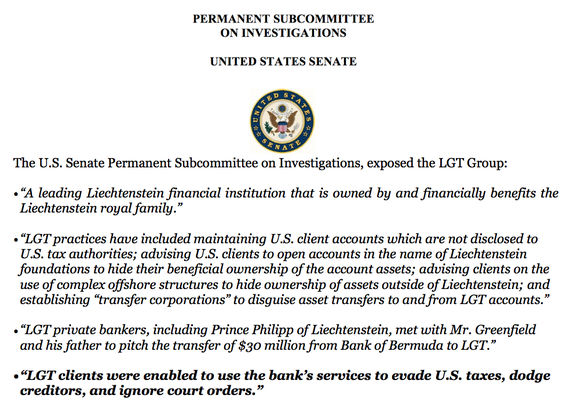 Money Laundering For Organized Crime – Balkans, Croatia and Iran
While the US imposed sanctions on Iran in efforts to curtail Iran's nuclear program, Iran's regime has been filling up the government coffers with proceeds from excise taxes and profits from regular tobacco sale. Additional benefit for Iran comes through its Croatian partner's core competence in smuggling (as reported by the media) with direct access to Liechtenstein's money laundering machine.
Croatia's tobacco company – Tvornica Duhana Rovinj (TDR) aka Adris was exposed by investigative journalists, whistleblowers and NGOs for alleged cigarette smuggling with connections to the Balkan region's organized crime networks and the Balkan Route – which was not investigated by Croatia's authorities.
According to the published articles, TDR started its business cooperation with state-owned Iranian Tobacco Company in the beginning of 2008. This initial partnership eventually grew into a formal joint venture and a jointly owned factory which started operating in September 2013.
In an Open Letter to Michael Liechtenstein sent by Roger Helmer, Member of the European Parliament representing UK, and co-founders of Adriatic Institute, Joel Anand Samy and I in January 2015, we asked Prince Michael von Liechtenstein about his role as a board member of Rovita, Liechtenstein-based branch of TDR, launched in 1991. Rovita was liquidated on July 3, 2008, coincidentally, just two weeks prior to the US Senate hearing on LGT bank.
Money Laundering For Corrupt Politicians – Hypo Alpe Adria Bank
Why did a company controlled by Michael Liechtenstein take majority ownership of Hypo Alpe Adria Bank Liechtenstein's branch at the time of Hypo Alpe Adria Bank Group International's (HGAA) sale to German-based BayernLB in 2007? Was it to shelter corrupt Balkan politicians (it seems also Austrian and German politicians) and their private partners in crime with Liechtenstein's bank secrecy and complex off-shore structures? Was it to give them time to clean up the accounts before Liechtenstein's branch got nationalized by Austria's government? How many billions of dollars were stashed in Liechtenstein accounts of HGAA?
Called the largest banking scandal of post-war Europe, HGAA scandal is hiding billions of dollars of illicit financial outflows via crime and corruption that hemorrhaged government budgets of the countries in the Balkans since 1991. It cost Austria and German's taxpayers $11.93 billion by August 2014. In its latest move, Austria's government just refused to guarantee HAAG's debt.
The unresolved HGAA scandal is keeping entire nations in Southeast Europe hostage by corrupt politicians and organized crime. From a small bank in Austria's province of Carinthia, HGAA grew with politicians from the Balkan region siphoning off taxpayer money and charitable donations during the UN arms embargo in the early 90s. Proceeds from criminal privatizations during the 90s and 2000s in the Balkan nations continued to increase deposits of corrupt politicians in HGAA Liechtenstein. Consequently, many of HGAA's 'loans' were approved to politicians and 'connected individuals' without any collateral. Were these loans designed never to be repaid?
Did TDR use Rovita, its Liechtenstein branch, for illicit financial outflows? TDR's privatization process in the 1990s was considered, by independent voices, as another criminal privatization scheme without transparency and with cooked books. Additionally, TDR's senior management was allegedly involved in criminal privatizations of Croatia's other state-owned assets.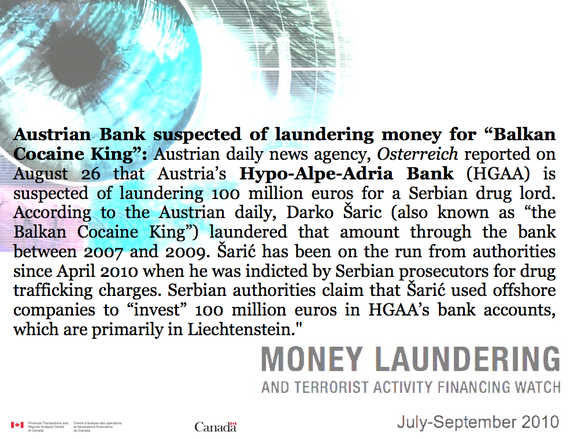 Money Laundering For Cocaine Ring and Montenegro's Criminal Networks
As a board member of Vienna-based F. A. Hayek Institute, Prince Michael von Liechtenstein is a welcomed guest in Podgorica, Montenegro. Among his hosts is Petar Ivanovic, the current Minister of Agriculture and former vice president and board member of Hypo Alpe Adria Montenegro (2007-2008).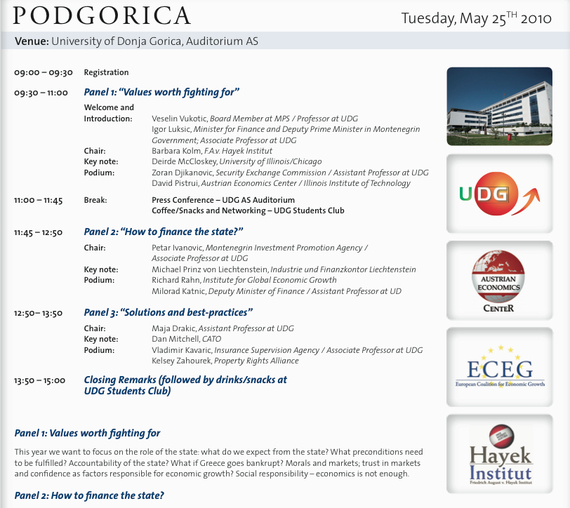 According to local media reports, Ivanovic was close to "Balkan Cocaine King" Darko Saric and on a private plane together with Saric who was fleeing from Podgorica to Geneva in 2009.
Based on the research by Organized Crime and Corruption Reporting Project and published by BBC, among the recipients of the large Prva Banka's ("First Bank" – controlled by Prime Minister Milo Djukanovic's family) loans was Darko Saric. Local media reports claim that Hypo in Montenegro acted as a branch office of Djukanovic's Prva banka during Petar Ivanovic's tenure.
Robert Matijevic, former assistant to Croatia's Customs Director and Department Chief for Combatting Trafficking discovered in TDR premises 1.6 million excise tax stamps of the same serial number, issued by Montenegro's finance ministry in 2002. Instead of investigating this case, Croatia's prosecutor discredited the whistleblower.
Immoeast Real Estate Scandal in Eastern Europe
Immoeast, claiming to be the largest real estate company in Central and Eastern Europe, with properties in Moscow and Kiev, ended with €520 million "missing" in 2008. The cross-directorship of companies surrounding this scandal had Prince Michael von Liechtenstein in leadership and an alleged conflict of interest position.
Baltinvestbank in St. Petersburg, Russia
St. Petersburg-based Baltinvestbank (formerly known as BaltOneksimBank) is owned 17% by Prince Michael von Liechtenstein. With many Russian banks suspected of money laundering, Baltinvest bank's 74% ownership tied to off-shore jurisdictions, and Liechtenstein's track-record in sheltering dirty money do not bode well. A piece by Dr. Gordon Hahn in 2002, exposed financial machinations of BaltOneksimBank, and its then and current chairman and shareholder Yurii Rydnik of alleged ties to the infamous Tambov organized crime group.
EU Has "No Competence" and National Authorities Have No Rule Of Law
With billions of Euros spent by EU taxpayers through various forms of aid to Eastern Europe and bank bailouts, Roger Helmer, Member of the European Parliament representing the UK asked two questions of the European Commission in regard to the Money Laundering Scheme with the Hypo Alpe Adria Bank in the Balkan region and asked about Prince Michael von Liechtenstein's involvement, in April 2012 and March 2013, respectively. The European Commission responded:
While significant illicit financial outflows hemorrhaged the budgets of the nations where Hypo Alpe Adria Bank and other Austria-based banks operated, the respective national authorities have not attempted to retrieve the stolen monies.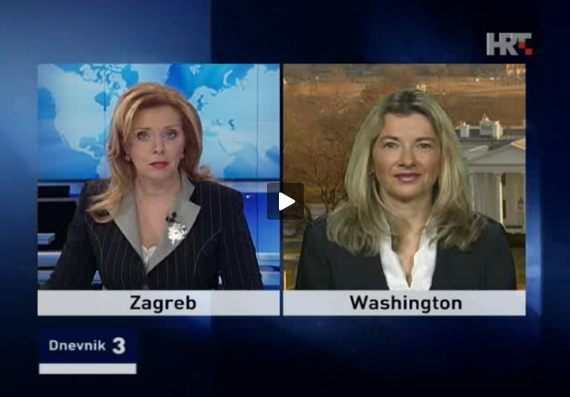 Open letter to Croatia's Prime Minister Milanovic co-signed by Monica Macovei, Member of the European Parliament (MEP) and former Romania's justice minister, Roger Helmer, UK MEP, Natasha Srdoc and Joel Anand Samy, co-founders of the Adriatic Institute.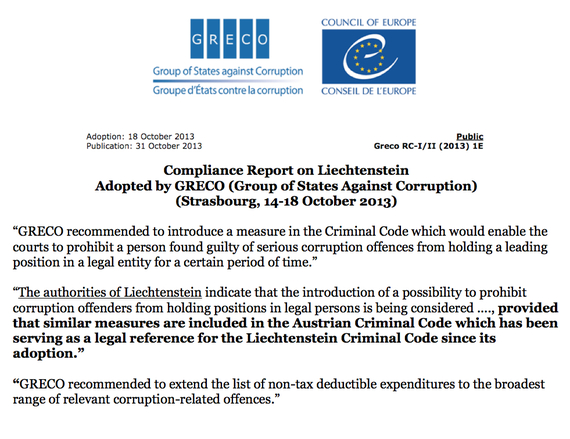 Liechtenstein has a provision which allows a tax deduction for corruption related expenses. Both Austria and Liechtenstein use the Austria Criminal Code which allows "Persons found guilty of serious corruption offenses to hold a leading position in a legal entity."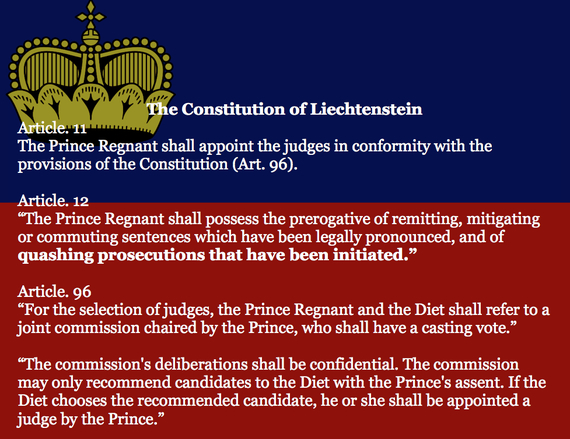 The US Should Lead the Way in Establishing the Rule of Law and Confiscating Illicit Enrichment
The fall of the Berlin Wall was exploited by Western corporate and financial entities that rushed to embrace ex-communists – a political class of criminals who are above the law, intertwined with unreformed intelligence structures, governing former communist states through transition. They jointly plundered the nations in Eastern Europe and are maintaining a status quo with a new generation of loyalists.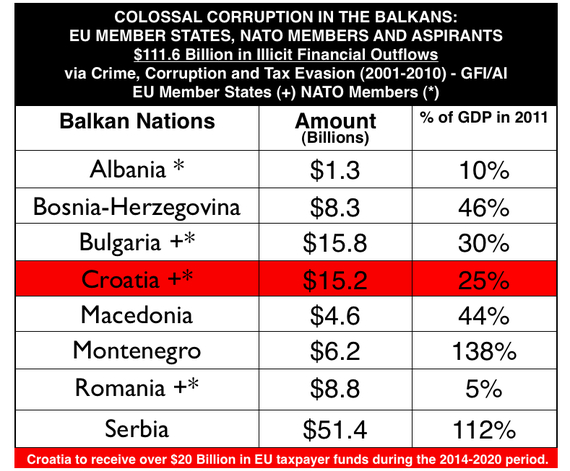 The unfinished work of establishing the rule of law and creating independent judiciaries in post-communist Eastern Europe has allowed corrupt politicians and their private partners in crime to work with transnational organized crime and terrorist networks. Today, they pose a real threat to the West and our rule of law civilization.
Citizens and leaders of strong rule of law nations must correct what we ignored in 1989 after the fall of the Berlin Wall.
Principled leaders from the US should lead the way in assisting Eastern Europe's nations to:
1. Establish the rule of law and independent judiciaries.
2. Retrieve hundreds of billions of dollars in illicit financial outflows that hemorrhaged the budgets of Eastern Europe's nations through crime, corruption and tax evasion (source: Global Financial Integrity).
3. Confiscate unexplained wealth/illicit enrichment amassed by corrupt politicians and their private partners in crime.
Until the rule of law becomes irreversible, the post-communist region of Europe will continue to attract bad actors, rogue states, and perpetuate rampant corruption, transnational organized crime and terrorism financing – an imminent threat to the West and our citizens. The responsibility and moral obligation to act now should be a high priority for US leaders.
Source: Huff Post