What People Don't Understand About Blended Families
As part of our Blended Family Friday series, each week we spotlight a different stepfamily to learn how they successfully blended their two families. Our hope is that by telling their stories, we'll bring you closer to blended family bliss in your own life!
Right before Trish Carucci's husband Tommy popped the question, he did something that still brings a smile to her face almost seven years later.
"He actually asked my daughters for their blessing before proposing to me in front of our parents," she told The Huffington Post. "The girls had kept it from me. When I found out he had gone to them first, it only solidified my decision to marry him."
Below, the mom of two shares how she and Tommy, also a dad of two, brought their families together.
Hi Trish! Please introduce us to your family.
My husband Tommy and I have four daughters and two dogs. Tommy has two daughters, Debra and Tara. Debra is 22, full of energy and just as funny as her dad. Tara is graceful, much like her mother was. (The girls lost their mother to cancer in 2006.) I have two daughters. My oldest, Sarah, is 21 and has the sweetest disposition. Meghan, 20, is my beautiful strong-willed baby girl — we referred to her as "Mighty Meghan" when she was growing up.
How long have you and Tommy been together?
He proposed to me in October 2008 but not before going to my daughters and asking for their permission to marry me. I thought it was such a class act to ask and have their blessing — of course I said "yes." We married August 15, 2009 under a huge white tent and with all four girls serving as bridesmaids.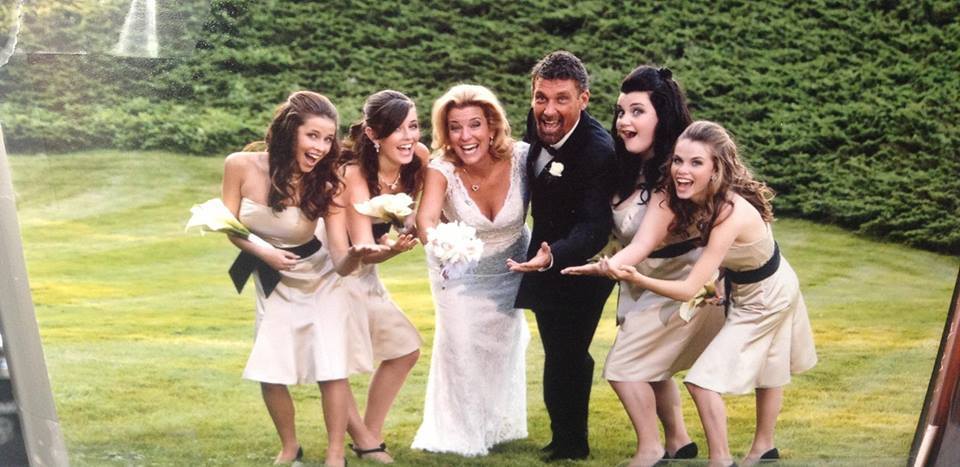 Photo by Happyhaha Photography
What are some of the biggest challenges you've come across these last few years?
Raising four teenage girls is going to be difficult any way you slice it. Some of our decisions were made together but for the most part we disciplined our own daughters. I think if they had been younger, inevitably we would have had to agree on how to discipline them but because they were older we tried to to avoid the "you are not my mother, you are not my father" arguments. In order to do that, you really need to agree to respect the other parent's decisions and support each other wholeheartedly. It can be a challenge; people raise their children differently and no one way is best. It's whatever works for you and your partner.
You also need to remember that though you may have moved on from your previous life, your children probably haven't. My kids' white picket fence was knocked down after my ex and I split and Tommy's kids watched their mother slip away to cancer. They need to be able to talk about those times and treasure those memories. It wasn't always a bad time for them and it's important for them to embrace the good in their past.
What's the best thing about being part of a blended family?
I love that I went from seeing two beautiful girls turn into young, strong women to now watching four beautiful women grow together. Tommy and I got really lucky with our daughters. Although they have had their disagreements, they all get along really well.
What makes you proudest of your family?
There's no prouder moment than watching our daughters enter a room together. It's like that moment in "Pretty Woman" when Julia Roberts enters the lobby wearing the long, red gown and all eyes are on her. Our daughters are so breathtaking and we're so proud of them.
I'm also proud that through all their adversity — Sarah and Meghan with the divorce, and Debra and Tara losing their mother — these four girls have remained strong, smart, successful and close to each other.
How do you deal with stress in your household?
I don't know if I have an answer for that but we do try to get out of the house as much as possible! We spend our weekends at the beach. I always tell my husband that I have never seen him more relaxed than when he is sitting on the beach. We love the Jersey shore, and although he commutes to Long Island every day, he never hesitates to pack up the car on the weekend and head to Robert Moses State Park for a relaxing day at the beach.
What advice do you have for blended families who are struggling to keep the peace?
Communication is the most important thing you can do with a blended family. You have to be able to express how you are feeling and you need to listen to your children. I rely on my faith to get me through the difficult times and make sure to give thanks for the great moments.
A blended family has to grow but people don't understand that the dynamics in a blended family are completely different than those of a "normal" family. The rules are different and when people tell you the way it should be or that you are doing something wrong, you can't always listen. The same rules don't apply. You have to trust your instinct and pray that you make the best decisions for your blended family. Ignore those who judge, especially in the beginning, and trust your choices. Our intentions are always for the peace and security of our family.
Keep in touch! Check out HuffPost Divorce on Facebook and Twitter. Sign up for our newsletter here.
Source: Huff Post