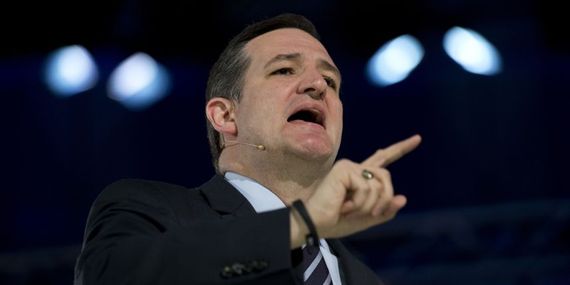 Presidential candidate Ted Cruz loved to argue as a Harvard student and boasted he'd get the best grades in his class, only to lose out to two other classmates.
In a series of exclusive interviews with Metro, several of his former classmates painted a complex portrait of the Tea Party's most beloved presidential candidate.
Laurence Tribe, a longtime Harvard law professor, said Cruz took his constitutional law class, challenged his teacher in interesting and "invariably right-leaning" ways at every turn.
Tribe said Cruz bragged to many of his classmates that he would receive the highest grade in the class, which had more than 150 students. That, said Tribe, alienated some. Tribe said Cruz received an A on the blindly graded final, but two people received an A+.
Renowned legal scholar Alan Dershowitz recalled Cruz was "not a very smiley guy," and he thought would become an "extraordinarily able appellate lawyer."
"The first day, he had his hand up and was asking questions," said Dershowitz, who retired from Harvard Law in 2013,
"He was an outspoken, libertarian conservative. He never talked about social issues. He was libertarian — less government, he wanted to get government out of our homes."
"He seemed like a very principled young man," said Dershowitz. "He loved arguing. That became evident in the classroom."
Dershowitz said he was not surprised when he ran for Senate.
"He represents the view of a substantial number of Americans," said Dershowitz. "The Senate needs one Ted Cruz. That's probably where he'll stay."
Another longtime Harvard law professor Charles Fried said he worked with Cruz when the latter was the editor of the Harvard Law Review.
"I have a vivid recollection of a very smart, very disciplined man," he said. "I've been reading all these sharp elbow stories but I didn't see that. He was, I would say, correct. Respectful and correct."
Fried acknowledged Cruz didn't smile much and his grandest ambition at that time was to clerk for then-U.S. Supreme Court Chief Justice William Rehnquist, something Cruz would go on to do. Fried, like Dershowitz, recalled Cruz not smiling much.
"He's in total control of himself," said Fried. "He knew exactly who he was and what he was doing. There's no question about that."
Read more at Metro.us
Source: Huff Post