Online supporters backed Dzhokhar Tsarnaev in the summer of 2013, saying on social media that they thought the government trampled on his rights during a hospital interrogation or claiming he was the innocent victim of a conspiracy. Supportive crowds sometimes amassed for the accused Boston Marathon bomber's court dates.
Rolling Stone magazine perhaps inadvertently added to the frenzy by plastering Tsarnaev's teenage face across its cover with a glamor shot as if he were a rock star. The magazine called him a "charming kid" who became a "monster."
These days, Tsarnaev is all alone.
Since his trial began on March 4, a few backers with signs have popped up on the perimeter of the Boston courthouse. But except for the team of public defenders arguing that he was in his older brother's thrall when he detonated one of the two bombs that turned the 2013 Boston Marathon into a bloodbath, Tsarnaev seems to have no one in the courtroom — no family, no justice groups.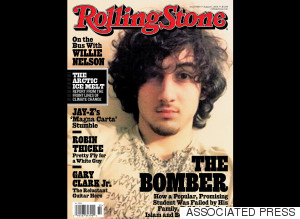 That's a reversal from pretrial hearings like one in December, where supporters bickered with bombing survivors and a woman interrupted proceedings and yelled "We prayed for you. Be strong, my son. We know you are innocent" to Tsarnaev in Russian.
One of the lone faces to regularly appear outside the Moakley U.S. Courthouse is death penalty opponent Joe Kebartas, 66, of South Boston. Most mornings before court, he holds up a sign saying "Death Penalty Is Murder." But Kebartas said he's strictly there to denounce capital punishment, not to defend Tsarnaev.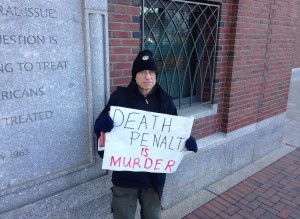 "Boston hasn't had a death penalty trial in years. I'm totally against the death penalty. I want to make people aware of the evil of it. My belief is the state should not get in the business of taking someone's life," said Kebartas.
As far as punishing Tsarnaev, he said, "Life imprisonment is a sentence that looks like the obvious alternative. He's a troubled boy. He's mentally ill, I think. Anybody who does that you have to believe is crazy."
Before the trial, it seemed like random members of the public might congregate en masse to support Tsarnaev, as occasionally happened during other hearings. District Court Judge George O'Toole ruled in February against the wishes of Tsarnaev's defense by saying the accused bomber's supporters could demonstrate near the court. But through four weeks of testimony, supporters have been few and far between.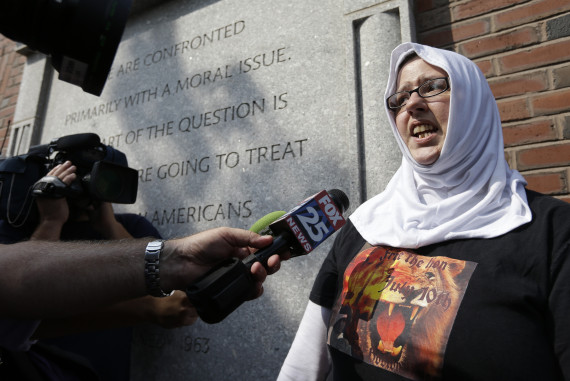 Mary Churbuck, of Freetown, Massachusetts, right, a supporter of Boston Marathon bombing suspect Dzhokhar Tsarnaev, speaks with members of the media outside the federal courthouse following the arraignment for Tsarnaev Wednesday, July 10, 2013, in Boston. (AP Photo/Steven Senne)
Perhaps the evaporating goodwill should come as no surprise. During opening statements, Tsarnaev's lead attorney, Judy Clarke, blamed her client for the April 15, 2013, attack that killed three people and wounded 264. Clarke contended that Tamerlan Tsaranev, 26, was the radicalized mind behind the attack who coerced his younger brother to carry out the plot with him.
Tamerlan Tsaranev was killed in Watertown, Massachusetts, by police and run over by his brother during a wild gunfight in the Boston suburb on April 19, 2013.
With his older brother and accomplice gone, it seems no one else from Dzhokhar Tsarnaev's family has decided to show up to supply emotional support during the trial.
"It would be hard to sit in that courtroom right now as a supporter of Dzhokhar," said Boston University law professor Karen Pita Loor. "I would wonder whether or not it would be helpful."
The defense began its case on March 30. Tsarnaev has pleaded not guilty to 30 counts, including 17 that carry the death penalty. If he's convicted of any of the capital crimes, the same jury will hear more testimony before deciding between life in prison and death row for Tsarnaev.
Tsarnaev's divorced parents have both moved back to Russia. If his mother, Zubeidat Tsarnaeva, returns to the United States, she may be arrested for a 2012 shoplifting accusation, according to CNN. His sisters, who CNN reports have gotten into some trouble themselves, live in New Jersey. They have been no-shows.
An uncle, Alvi Tsarnaev, wouldn't talk about his nephew or the trial when reached by phone in early March.
"I don't want to say anything," he said. "I've said it all before. If you go on the Internet, you know what I have to say."
Alvi said two years ago that Tamerlan called him just hours before the Watertown shootout, asking for forgiveness. The uncle and nephew had not spoken for two years before that call, according to USA Today, although Alvi declined then to say why they had not been in communication.
"Killing innocent people, I cannot forgive that," Aliv said in 2013, according to USA Today. "It's crazy. I don't believe it now even. How can I forgive this?"
Shortly after the bombing in 2013, another uncle in Maryland, Ruslan Tsarni, briefly entered the limelight by calling Dzhokhar and Tamerlan "losers."
The absence of Tsarnaev's relatives at the trial could be a deliberate part of the defense's strategy, according to a former assistant U.S. attorney in Boston who's now in private practice.
"It would be important to show family support if they could," said George Vien, "Or there's the theory that they don't want anybody else there because it would undermine their argument that the brother was the only person in his life."
The Boston Marathon attack has been compared to the Oklahoma City bombing that killed 168 people. No member of Timothy McVeigh's family was on hand for his 1997 conviction either, according to The Washington Post, and his sister had actually testified against him.
It's also possible that family members aren't in court because they may be called to testify later. Witnesses typically do not watch each other testify.
This is the Cambridge building where the Tsarnaev brothers lived for years. Their apartment was on the top. pic.twitter.com/uMHvoushuD

— Michael McLaughlin (@McLaughlinnews) March 8, 2015
Tsarnaev's family are Muslims who trace their ancestry to Chechnya, a republic in Russia riven by two wars since 1994. But Tsarnaev and his immediate family lived in other parts of Russia and Kyrgyzstan before emigrating to the United States. The small, close-knit Chechen community in and around Boston almost immediately disavowed any connection to the family, according to a University of Massachusetts Dartmouth professor who's a Chechen specialist.
"The Chechen community here in Boston didn't consider them real Chechens. To be real Chechens, you have to experience those wars with half the nation driven into exile," said professor Brian Glyn Williams, who emailed with Tsarnaev when he was a high school student in Cambridge, Massachusetts, exploring his ethnic history. "That's not the experience these two kids [Dzhokhar and Tamerlan] had."
A Lutheran pastor in Germany recently proclaimed that Andreas Lubitz's hometown stands with the Germanwings co-pilot who prosecutors say intentionally crashed his plane into the French Alps, killing 150 on board the flight. No such warmth sprouts at the mosque that Tsarnaev and his family occasionally attended in Cambridge.
"As far as the trial is concerned, we're here for the community at large. This has been very traumatic not just for our members at the mosque," said Nichole Moussalam, director of the Islamic Society of Boston.
Even online, pro-Tsarnaev commenters have withered.
The evidence piled up in court by the prosecution drove away some of Tsarnaev's former well-wishers, said a 23-year-old Philadelphia woman who until recently administered a Facebook page called "Free Dzhokhar Tsarnaev" that has hundreds of members. (Some pro-Tsarnaev pages have as many as 14,000 fans on Facebook.)
The woman, who requested anonymity because of her unpopular opinions, said she quit the group because her views on Tsarnaev evolved. Doubts that Tsarnaev detonated a bomb gave way because of video footage showing him scurrying away before a Boylston Street explosion. But she's certain the government violated his rights while interrogating him in a hospital.
"I'm not championing him. I'm championing his rights," she said. "He came in with a backpack, he leaves without a backpack and as soon as he leaves, right where he was standing, it blew up. My views were a presumption of innocence until proven otherwise. I'm satisfied at this point."
@media only screen and (min-width : 500px) {.ethanmobile { display: none; }}
Like Us On Facebook |

Follow Us On Twitter |

Contact The Author
Source: Huff Post