Widower Says He's 'Learning To Smile Again' After His Wife Died In His Arms On Their Honeymoon
John McFadden was on his dream honeymoon in Cozumel, Mexico when the worst possible tragedy struck: His new bride died right before his eyes.
It's been three months since John's wife Lindsey McFadden passed, but it seems "like yesterday" to him. Since her death, John has maintained a blog dedicated to Lindsey's memory, and he spoke with HuffPost Live's Nancy Redd on Thursday to share his painful story.
The couple first met in August 2013, then reconnected in March 2014, when John renovated a bathroom in Lindsey's duplex. John quickly realized he'd found something special. "So basically about a month after that," John said, "we had our first kiss, and 18 days after that, I asked her to marry me."
The couple's wedding came unexpectedly. They were three days into a visit with John's family when he stumbled upon his partner attempting to make an important decision.
"I found her making a list that Monday morning," he said. "At the top of it, it said, 'pro and con.' I said, 'What's this about, Lindsey?' She made lists all the time like that. She goes, 'I'm making a list of us getting married today.'"
The couple tied the knot at a courthouse that very afternoon in June 2014. They kept the wedding secret and continued planning a bigger ceremony, which happened that October. In December, John and Lindsey finally made it to their honeymoon, a blissful trip to Cozumel.
"We had the greatest nine days that any two people could ever have. We just were so in love and shared so many incredible things there, and I can't imagine a more beautiful place," John said.
Lindsey wanted to learn to scuba dive, so John hired "the best guy on the island" to train her one-on-one and prepare her for any underwater danger. On Dec. 8, the couple went for a "perfect" dive. During it, this photo of Lindsey — the last photo of her life — was taken.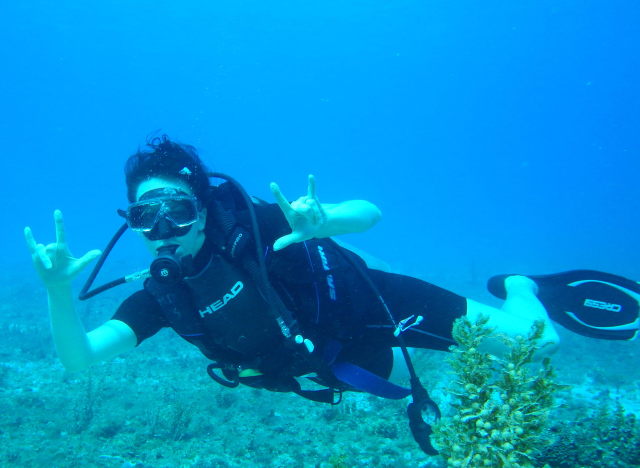 The last photo of Lindsey McFadden, taken during a dive with her new husband John.
As the dive came to a close, the couple waited 15 feet below the surface for a "safety stop." Lindsey kicked free earlier than planned, so John followed along. Then the unthinkable happened.
"When I got to the surface, literally she said, 'I feel sick,'" John said. "Then she went to tip into the water. I could tell she was struggling. I immediately grabbed a hold of her and she said 'I feel sick' once more, and literally she died right there before we could even get her out of the water."
Based on "educated best guesses from some very gifted doctors," John learned Lindsey's liver had lesions that "coincidentally decided to open up" during the dive. John later found solace in the fact that she didn't realize what was happening.
"She never had a moment of pain. She never had a moment of terror. She was with me, and in that way, we could all wish that we would go out in such a beautiful setting," he said.
In the months since, John has kept busy with blogging and "crying and sanding and working on a sculpture for her ashes."
"I've been trying to honor Lindsey and her belief in me. It was so profound, and it's given me such strength," John said. "I'm committed to doing that, but also learning to smile again, learning that moving forward is not abandoning her or betraying her. It's actually fulfilling what we always did, which was try so much to seize every moment."
Sign up here for Live Today, HuffPost Live's morning email that will let you know the newsmakers, celebrities and politicians joining us that day and give you the best clips from the day before.
Source: Huff Post