When Kim Silva retired from teaching at the American School for the Deaf, she decided to start teaching sign language to her cats.
"Guess I missed the kiddies so I began teaching the kitties!" Silva says.
It all started after setting sights on a deaf cat named Bambi.
In 2009, after losing another beloved pet, Silva and her husband, John — who are both deaf — were ready for a new feline companion.
"[We] fell in love with Bambi on Petfinder," Silva says.
Silva's previous teaching experience was pretty much limited to humans, but she was optimistic that American Sign Language would help Bambi live most fully — and that the cat would be a perfectly good student.
"Since my daughters learned signs from infancy, I had ideas how to introduce sign," she says.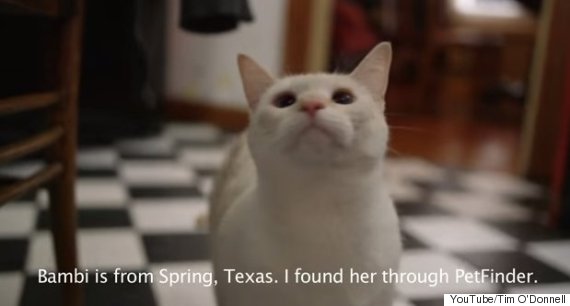 Bambi was at a rescue shelter in Texas, though, and it would take a while before she could be brought to Connecticut, where Silva lives. In the meantime, she figured, she might as well get started with the cats she already had, even though both of them could hear.
A lot of deaf dogs have learned ASL. Groups like the ASPCA say training cats in general is possible (always using positive reinforcement, of course). Still, Silva says even "some deaf people have questioned if cats could learn sign."
"Bobcat immediately understood," she says. "My other cat, Bear, was very old and was not interested."
Bobcat learned one sign after another "until he learned the new vocabulary," Silva says. "Bobcat was a sponge for sign language! He showed off. He was fabulous."
Bambi picked up the signs even more easily, since, Silva explains, she had "peer reinforcement and copied Bobcat."
Thomasina, who then joined the family in 2013, after Bear died, learned even faster.
The cats have a delightfully expansive vocabulary. Among the words they now know are: "come," "more," "sit," "stay," "shake," "high five," "sleep," "circle," "shrimp,' "play," "canned food," "finish" and "dance" (though sometimes they don't feel like doing that one). They also know "off," which Silva must spell out, letter by letter.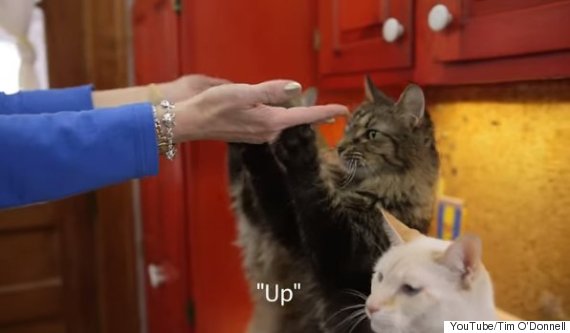 A lot of the commands are carried out in the video at the top of the page. Silva hopes the clip, made by her son-in-law Tim O'Donnell, will inspire others to adopt deaf cats of their own — and teach them sign language, too.
"Cats become much more interactive with people because they want to communicate," Silva says. "Bobcat was a 'pillow that ate' before he learned sign. He interacted with other cats, but ignored people. After he learned sign at age 7 years, he became the extroverted show cat! My cats will also do tricks with other people who sign with them."
While the talented cats respond to Silva's commands, they don't actually sign themselves — at least not a whole lot.
"Bambi likes attention and likes to play ball. She stretches up to tap my hands signing 'play' for me to get her ball," says Silva.
Still, she remains hopeful her communicative felines will one day acquire more of this rather wonderful skill.
"I would like for my cats to be able to sign to me and ask for food," she says. "I have seen this online in other signing cat videos, but was not able to teach Bobcat. I will try again with Bambi and Thomasina."
It's possible!
Email arin.gr[email protected] if you have an animal story to share.
Like Us On Facebook

Follow Us On Twitter
Source: Huff Post