Two Oregon seventh-graders are giving other girls a boost of confidence.
Avery Burn, 12, and Genae Vanek, 13, have been passing out mirrors to female classmates for the last few weeks, Avery's mother, Annie, told The Huffington Post in an email. Written on the mirrors are positive, empowering expressions, like, "You are inspiring," and "You are brilliant." The project, which the pair call "Love My Reflection," seeks to build up girls' self-esteem.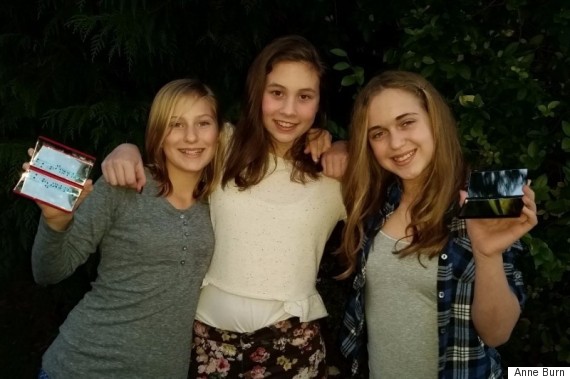 Avery Burn and Genae Vanek, holding their mirrors, with a friend.
"Our hope is that girls will be accepted for who they are and feel good about themselves from receiving uplifting words from other girls," the GoFundMe page for their project states.
The two came up with the idea when deciding on an initiative to undertake as part of the Destination Imagination Challenge, in which they needed to identify an issue that they saw in their community, and offer a creative, innovative solution, Annie told HuffPost. Avery and Genae, who both witnessed body shaming and self-criticism among their classmates, decided to tackle those very issues. They reached out to their local Sephora, a beauty chain, which donated 100 compact mirrors to the girls. The pair then wrote messages on each of the mirrors and passed them out at Rock Creek Middle School.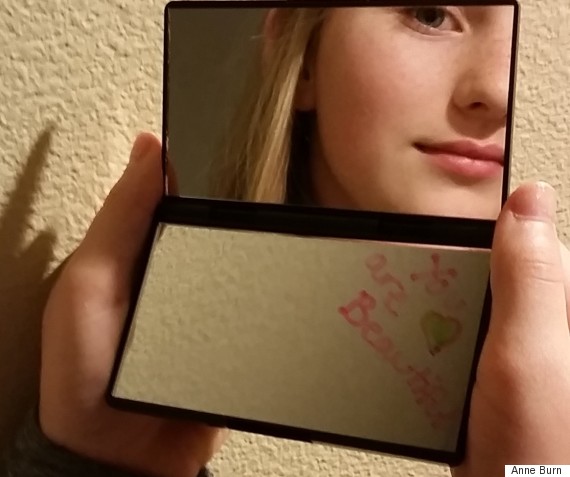 The mirror, with an uplifting message.
It's only been a few weeks since Avery and Genae began passing their mirrors out, but the pair have already noticed a positive change in their classmates.
"It's definitely made a big difference. I definitely see more smiles on their faces. I see them complimenting themselves. That was a positive thing to see," Genae told Today.com. "A lot of people felt more confident with themselves which made it easier to go talk to people they don't know and introduce themselves."
But the project hasn't just made a difference in their peers. The pair has benefited from Love Your Reflection, as well.
"This project helped boost my confidence to see that I can make a difference. It makes me feel better about myself," Genae told Today.com
The girls have received positive feedback from parents and administrators, and hope to expand their project to other schools around the country, Annie told HuffPost. The two are looking for companies to donate mirrors or help sponsor their initiative, so they can continue to share their positive message.
"Don't care what other people think of you," Avery told ABC News. "You are beautiful."
To learn more, or donate to "Love My Reflection," visit the fundraising page here.
Like Us On Facebook

Follow Us On Twitter
Source: Huff Post